General
2020 St Patrick's Day • Tracing the roots of offbeat Irish music genres
---
This article is more than 3 years old.
Backstories aplenty in this history of Irish music: from the Pogues to Rory Gallagher to Van The Man himself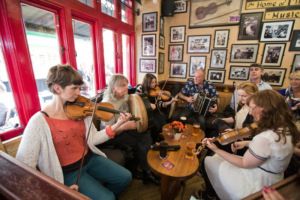 Mention Irish music and invariably pub singers come to mind. Nowhere hires them more often, or pays them cheaper. They might not always be playing Irish songs, but as long as 'Whiskey in the Jar' is in their repertoire, they'll get hired with the understanding they're keeping it country.
But beyond the traditional Irish songbook that every pub performer is obliged to dip into now and again, the Emerald Isle has provided us with a wide variety of different sub-genres.
Some are unique, some reinvented, and some are utter tripe. Here's a quick overview of some of the best ones out there, with a few clues to their often uncertain history.
Celtic Soul
There are ways to raise a rabble and then there's hell-raising, jazz-hating Jimmy Rabbitte. "The Irish are the blacks of Europe. And Dubliners are the blacks of Ireland. And the Northside Dubliners are the blacks of Dublin. So say it once and say it loud: I'm black and I'm proud," he told his troops ahead of christening them 'The Commitments'. It's a nice analogy, and maybe in the 1980s, when most Irish people's best prospects lay in Britain, it had some truth, but not nowadays in the wake of the Celtic Tiger. And besides, long before Roddy Doyle crafted this speech, the inimitable voice and output of Northern Irish singer Van 'The Man' Morrison had laid claim to grand-daddying the genre we know as Celtic Soul.
Irish Rock
Forget U2, Thin Lizzy and The Cranberries, as Jimi Hendrix knew who the undisputed grand-daddy of Irish Rock was. When he was questioned: "Jimi, what's it like to be the greatest guitarist in the world?" his response was: "Don't know, ask Rory Gallagher". It's hard to disagree when you check out his performance at the 1970 Isle Of Wight Festival. Many current guitarists cite Gallagher as their biggest inspiration, including U2's The Edge.
Celtic Punk
You hear the expression Celtic Punk and think of the hairstyle of Bob Geldof – or even Sinead O'Connor … sorry, Magda Davitt … sorry Shuhada' Sadaqa – but it is in fact a genre mostly credited to The Pogues, a London band in the 1980s most famous for gappy-toothed frontman Shane MacGowan's Christmas duet with Kirsty MacColl, 'A Fairy-tale in New York'. However, essentially a mix of punk and traditional music, its roots go deeper than the Pogues to British folk rock and Celtic folk. Today, it is particularly popular in Boston thanks to the likes of The Dropkick Murphys.
Eurovision
In the 1970s all was well. Dana won the Eurovision Song Contest in 1970 with 'All Kinds of Everything', the kind of dappy song the governess in 'The Sound of Music' might have sung had she given the kids LSD, and that was enough for Ireland. Warning shots were fired in the 1980s when Johnny Logan won it twice. "What's another year" he crooned? Try millions of punts for hosting it, you fecking eejit! And then the 1990s brought Armageddon, as a Logan-penned number in 1992, 'Why me? (yes, indeed), sparked off four wins in five years. Since then, the Irish haven't been trying very hard. Okay, maybe Jedward have …
Boy/girl bands
Ronan, Stephen, Shane, Keith, Mikey (wasn't he the ugly one?), Shane, Markus, Kian, Nicky, Brian (wasn't he the fat one?) … what have they all got in common? Louis Walsh, of course, the dipstick in X Factor who wouldn't know talent if it hit him with a barn door. But who needs talent when you can bludgeon highly impressionable teenage girls with a mixture of floppy-haired choir boys, token bad boys with tats, corny songs and teeth? Both got off to moronic starts: Boyzone's first TV appearance was the farce to end all farces (Colin Farrell had got down to the last ten in auditions) while Westlife originally called themselves Westside at the height of the West Coast-East Coast rap war. They could have got themselves shot! And don't get us started on B*Witched, the cutesy Irish girl band who … oh no, don't tell us they had a reunion as well.
Family bands
Catholicism gives the Irish an advantage in churning out family groups. After all, it took Family Jackson umpteen births to strike gold and in the meantime the also-rans can play the harmonica, triangle or whatever it is the brother does in the Coors. Sure, there's them, and the Nolans, of course, and don't forget that the Cranberries were founded by a pair of brothers, albeit as The Cranberry Saw Us, a limp unit that decided to hire a woman so they could finally meet one. B*Witched has a set of twins, The Fureys (no jokes about them as they are of Irish Traveller heritage) initially consisted of four brothers, while Clannard is like Jerry Lee Lewis's family tree: two brothers, one sister and evil-looking twin uncles.