News
Culture Round-Up: Meet the 'Cardio-shians'
---
This article is more than 3 years old.
Ahead of the coronavirus taking control of our entire media output, there were a surprising number of developments in the worlds of television, cinema and beyond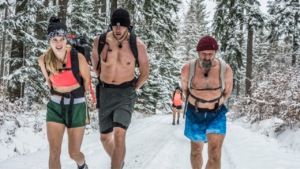 Imagine some of the discussions Caroline Wozniacki and her father and coach Piotr have had! Well, now viewers are going to get that chance when the pair, together with her hubby David Lee and three other family members, put their bodies through eight tests of endurance for a new Discovery series. First up is the ascent of a well-known mountain.
Strong pull of capital
DR recently caught up with Jeremy Strong, one of the stars of 'Succession', to find out why he lives in Copenhagen. Since his breakout role as Kendall Roy, the 41-year-old's film career has taken off, and it has all coincided with his move here to live with Danish wife Emma Wall and their two daughters. The pair met during Hurricane Sandy after defying a New York civic warning to stay at home, and they got married in Christianshavn in 2016.
Michelin greenwashing?
Christian Puglisi, the head chef at Relae, believes Michelin's badges of approval for sustainable gastronomy are a case of greenwashing. The clover-shaped emblems were dished out to any restaurant that answered a few questions affirmatively over the phone, he told greenqueen.com. Awards-wise, The Alchemist was the biggest winner, advancing from zero to two stars, while Italian restaurant Era Ora will close this summer after losing the star it earned in 1997.
Ugliest building
Østerport II, the structure housing the recently renovated Østerport Station, has been named the ugliest new building in Denmark of the last five years. Some 4,000 members of the Scandinavian architect association Arkitekturoprøret voted, naming Blox in Copenhagen and Papirtårnet in Silkeborg the next two ugliest.
Shamrock love!
The St Patrick's 3-Legged Charity Race on March 17 may have been cancelled due to the coronavirus, but it can't kill the 'Shamrock Love', according to Siobhán Kelleher-Petersen, who had been looking forward to her 20th race as organiser. The efforts to raise funds for the race's chosen charities will continue (MobilePay 71440), of which all three help children in need.
New happiness museum
A Happiness Museum is opening this May on Admiralgade in Copenhagen. In recent years, Denmark has been named the world's happiest country three times. Overseen by Meik Wiking, the head honcho at the Happiness Research Institute and all-round expert on hygge, the municipality is confident it will attract 20,000 visitors a year.
Scarf fall-out
TV2 host Mette Helena Rasmussen has been criticised for wearing a Muslim scarf on Instagram. She apologised, noting that none of the criticism of her cultural misappropriation came from Muslims. "The critics wrote in a fashion that suggested they were university educated," she noted. In contrast, some Muslims complimented her.
Cool vibrations
Heartland Festival has confirmed that Beck and Beach Boys legend Brian Wilson will be playing at the festival later this spring, joining a line-up that includes The National, The Cardigans and Rufus Wainwright. This year's Heartland Festival will be held from May 29-31. Meanwhile, Distortion's line-up includes Solumon, John Talabot, Kölsch, Peggy Gou and Charlotte de Witte. Distortion has been postponed to August due to the coronavirus.
Harder to discover
It's harder to access the Discovery channels in Denmark despite some of them, like K4, K5 and K6, holding the rights to key sports packages. At the start of the year, YouSee's 1.2 million customers lost access, and now Telia's 21,000 customers likewise after the company failed to negotiate a new deal. Instead, Telia customers will get more channels from the cable provider CMore, which has a puny sports portfolio but a strong one in terms of series and films.
DFI gender demand
Since March 1, all funding applications submitted to the Danish Film Institute have needed to break down how many men and women are involved. The data will enable the industry (the DFI and the director and producer associations) to better reflect society. A trial launched last year for feature film applications confirmed that far more men than women worked in the industry.
Wild about film
The Guardian has praised the new Danish film 'Wildland' ('Kød & Blod') following its screening at the Berlin Film Festival. Directed by debutant Jeanette Nordahl, Sidse Babett Knudsen plays a loan shark matriarch entrusted with the care of her niece, who quickly adapts to the new family business – or does she
Tyler, Taylor, tickets dry
Roskilde has already sold all 80,000 of its full-festival tickets, thus vindicating its focus on youthful acts in what will be its 50th edition. One-day tickets are still available to see the likes of Taylor Swift and Tyler the Creator. This year's festival will run from June 26 to July 4.
Another gong for Trine
Trine Dyrholm has won yet another Best Actress Bodil award for her role in 'Dronningen', which also scooped the gongs for best film, supporting actor and cinematography. There is no Bodil award for best director.
Top city venues
The three most popular music venues in Copenhagen are DR Koncerthuset, Amager Bio and Jazzhus Montmartre, according to a Voxmeter poll.
Plum role for Kim
Kim Bodnia has landed a role in the second season of 'The Witcher'. Bodnia, 54, joins a cast that includes Lars Mikkelsen, a fellow Dane.