Things to do
Performance Review: Standout Silke steals the show from the slaughter at the stake
---
This article is more than 3 years old.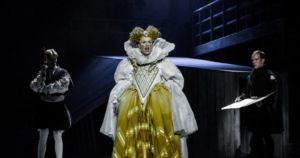 This Danish musical adaptation of Ken Follett's bestselling historical novel 'A Column of Fire' offers up a powerful music score with standout performances from the small orchestra ensemble, as well as Silke Biranell who plays Margery Fitzgerald, the Catholic daughter of the mayor of Kingsbridge.
The romance between Margery and Ned Willard, the Protestant son of a wealthy Kingsbridge merchant, is compelling throughout as they are forced to navigate the treacherous politics of love and religion while maintaining their own ideals.
Captivating scenes of conflict abound from the story's backdrop of religious extremism and political struggle, though the scenes of sexual violence seem gratuitous.
Merci Poisonous Pierre! 
One of the most intriguing storylines of the musical are the events that follow the low-born French-Catholic con-man Pierre Aumande, who is sadistic and ruthless in his struggle to achieve higher status.
Ironically his character also provides some of the best comic relief in the musical as he carries out the dirty work for the House of Guise, a French Catholic noble family, which includes, among other tasks, a forced marriage to an overly eager pregnant servant woman.
His character's manipulation and deviousness serve as an apt foil to the more pacifist and honourable protagonist Ned.
Laughs and religious persecution
The theatre production is as ambitious as the story's 928 pages of source material, which covers about 60 years between the late 16th and early 17th centuries and follows political and religious upheaval from Geneva to Edinburgh.
The rotating stage and script were seamless in transitioning the story from Queen Elizabeth's quarters to Paris and back to the town of Kingsbridge, while including some real historical events along the way.
Scenes of burning at the stake and other elaborate set pieces are used to great effect and remain just as vivid in the mind after leaving the Bellevue.
It has all the elements of an epic love story along with laughs and religious persecution – something for everybody.