News
New Metro line opening as planned on Saturday
---
This article is more than 3 years old.
Operator has decided not to disclose when the first M4 Nordhavn train will run, or from where, and discourages its use until April 14 at the earliest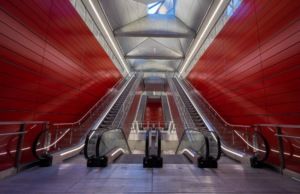 In the midst of the coronavirus pandemic, the M4 Nordhavn is still opening as planned on Saturday March 28, according to Metro.
The M4 Nordhavn will function along a line that includes eight stations, of which just Nordhavn and Orientkaj are new, with plans to include five more new stations in the direction of Sydhavn by 2024.
Make it as unattractive as possible
However, there will be no repeat of last year's ribbon-cutting and speeches for the opening of M3, the City Ring line.
The Metro urges excited passengers to wait until April 14, the expected termination of the current lockdown, to try the new line.
The company is not even disclosing when the first Metro train is running, or from which station.
Currently only necessary travel are encouraged. Find Metro-endorsed instructions on how to prevent the spread of the coronavirus here.
Spread passengers on the busiest route
Once it is fully operational, it is expected that the M4 will help to evenly distribute Metro travellers. For example, the M4 will double the number of departures on the busy stretch between Østerport and Copenhagen H.
Final testing is ongoing, and final permission from the authorities will be needed to launch the new line.