News
Denmark could gradually open up after Easter 
---
This article is more than 3 years old.
Stable coronavirus figures an indication that Denmark is on the right path, said Mette Frederiksen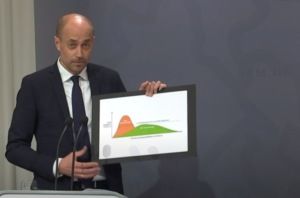 Moments ago, the PM Mette Frederiksen announced that if the coronavirus curve continues to flatten out, Denmark could open up again in the near future. 
The PM said that if the Danes keep pulling together and the coronavirus figures remain stable over the next two weeks, the government will consider gradually opening up after Easter. 
Frederiksen praised Denmark and its people for being vigilant and making tough decisions for the benefit of society.  
READ ALSO: How international students are coping with the coronavirus lockdown in Copenhagen
Coming weeks critical
However, Frederiksen underlined that the crisis was far from over and that the Danes must keep adhering to the government's restrictions if the country is to start opening up in two weeks' time. 
"The second half of this crisis will be just as difficult. The coronavirus crisis has yet to climax and health workers can look forward to even tougher conditions," said Frederiksen. 
While the number of new coronavirus cases is currently stable, the next few weeks will be critical in the fight against the coronavirus, the PM concluded.