News
How international students are coping with the coronavirus lockdown in Copenhagen
---
This article is more than 3 years old.
The dream of studying at a prestigious university is crumbling. but for these fish out of water there are plenty of reasons to be grateful too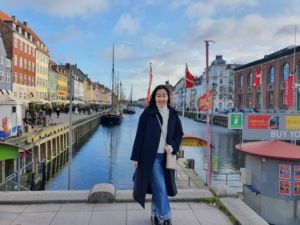 Idyllic expectations of studying abroad were shattered for thousands of students across the world this year. Culture, food and lifelong friendships were traded for cancelled classes, quarantine and social distancing. The thousands of students who flock to Copenhagen annually, seeking a Scandinavian education, now face unprecedented chaos.
International students in Denmark's capital were thrust into immediate uncertainty on Wednesday March 11, when Prime Minister Mette Frederiksen announced nationwide school closures. The drastic measures, following a concerning increase in the number of coronavirus cases across the country, were an attempt to slow the spread of the virus.
Those studying abroad suddenly faced a dilemma: remain in Denmark amidst the crisis, or return home and risk their health on long journeys, whilst abandoning their education.
Serenity amidst the security measures
While quiet speculation had been ongoing for weeks, the PM's definitive action still came as a shock to many, including British student Sophie Mallett, 21.
"Initially I just thought it was a lot of hysteria and panic that was probably not warranted," she said.
"Now I understand that young people are one of the largest demographics to be transmitting and spreading the disease."
Despite her original doubt regarding the lockdown, Mallett now describes the level of serenity that came as a result of the security measures: "I feel calm knowing that people here really trust the government, and it's definitely registered with the public that this is serious."
Mallett, who studies biological sciences at the University of Copenhagen, was depending on a work experience placement she had hoped would set her apart from the competition in upcoming job applications. Now, with global lockdowns, the future of her project is less than promising.
"In science, if you don't have some kind of internship, you don't stand much of a chance later," she explained, illustrating the concerns of a generation who now must face the fundamental years of their careers with the backdrop of a global pandemic.
When you can't go home again …
The lack of physical classes is also taking its toll on some students, as teachers attempt to condense interactive lectures into Skype sessions, battling with technology and temperamental internet connections.
After relocating from Spain to Denmark for her master's, economics student Eva Martin Montero, 23, is now familiar with the frustrations of this new approach to education.
"I'm missing a lot and I don't think I can learn the same things on my own. I wanted to study here at this university and it feels like I'm not doing that," she said.
Within this unpredictable turn of events, international students are now provided with the unique perspective of watching front row as a foreign country navigates the crisis. While Montero's home country of Spain is suffering immensely at the hands of the virus, she describes Denmark as a "safe place" where she remains in the interest of both her and her family's well-being.
"My mother says it's like being in the war in Spain," she said. "They're fine with me staying here because they know I'm in a better situation – at least I can go out and get fresh air – and if I go home I could risk infecting people that I love."
Sadness among the happiest
But for some, the separation from loved ones is understandably traumatic, with no end in sight for global travel restrictions. Da-yun Jin, 21, has never been further from her home in South Korea, and the distance is beginning to take its toll.
"My parents are really worried about me now because in Denmark the situation is getting worse," she said.
Being a foreign student, the lockdown has added implications, as the pandemic occurred faster than many could organise proper documentation: "I'm afraid because I didn't get my CPR number yet and now I still don't have it."
As an architecture student, Jin had anticipated sightseeing and travel opportunities during her first time in Europe – ambitions that have been shattered with the escalation of the pandemic. But with trips to Finland and Paris postponed, she is now confined to lockdown within her student residence.
"I chose Denmark because it is the happiest country, and it's sad that there are so many places here I can't see now," she said.
However, that hasn't stopped her from experiencing one vital aspect of Danish culture: "I've been riding my bike more and I'm really into it now – which is a positive."
Best place at the worst time
Similarly, many students have attempted to navigate their new situation with home-made fun. Tibor Fekete, 26, is now sporting a newly shaved head after two weeks of government lockdown – something he puts down to boredom.
Hailing from the Romanian region of Transylvania, Fekete set his sights on Copenhagen in the hope of advancing his career opportunities.
"The university is one of the best faculties worldwide, and back home I wouldn't have the possibility of choosing such a good program," he explained.
Fekete has not allowed the lockdown to dampen his spirits, even though he "really wanted to experience Scandinavian life and the hygge feeling",  crediting his flatmates for supporting him during this confusing time.
At what is now a turbulent period in world history, it is perhaps more crucial than ever to look on the bright side. "I'm in the best place at the worst time," he contended.
For the moment, life remains in a state of isolation for many, as the Danish government recently announced an extension of the lockdown, which will now continue until April 13.
Yet optimism remains, as Fekete's priority is clear once the lockdown ends: "When this is over, I'm getting drunk."
It seems that, even amidst all this chaos, one thing remains true: students will be students.