News
Coronavirus Light Relief Round-Up: First the skiing holiday, now the confirmation
---
This article is more than 3 years old.
Meanwhile, a cross-border octogenarian couple grabbing international headlines – it's just like Pyramus and Thisbe!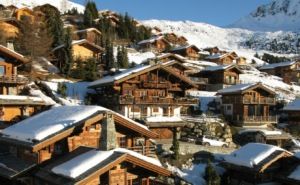 Spare a thought for the Crown Prince Couple's family, as Se og Hør has broken a story that will surely break many royal-watchers' hearts.
Not only was their children's education (and Princess Mary's skiing holiday) at an international school in the Swiss resort of Verbier interrupted by the coronavirus outbreak.
But now the confirmation of Prince Christian, 14, has been postponed. It will take place instead later in the year.
The Royal Run in May, though, has been cancelled outright.
---
Danish couple's beach holiday plans rumbled by island's health authority
A Danish couple's crafty plans to quarantine on the Portuguese island of Madeira were recently ruined by the Danish health authority, reports portugalresident.com. Sundhedsstyrelsen officials tipped off their Portuguese counterparts when they realised the couple had violated their agreement to self-isolate for 14 days after having contact with their coronavirus-stricken son. When the pair arrived at their hotel in Funchal, they were taken to a room and ordered to stay there for two weeks.
Diplomats broke no rules by walking their dog, claims ministry
The Foreign Ministry has denied that one of its newly-arrived diplomats in Beijing has broken quarantine regulations, reports kxan36news.com. Amid fears that foreigners might bring a second wave of coronavirus into the recovering country, Chinese newspaper Global Times claims the diplomat and her family were required to stay at home for two weeks, but that three children were sighted by a neighbour walking a dog outside their home on March 25. The Foreign Ministry insists its diplomat has "complied with the rules".
One for 40, two for a grand, can't say fairer than that
A supermarket in Rotunden in Hellerup has been reportedly selling hand sanitiser for 40 kroner a bottle – which seems pretty normal. But according to Bored Panda, two bottles will set you back 1,000 kroner. The supermarket was not identified in the story, although Meny is the only chain to have a store at the shopping centre.
It's all going pear-shaped for fruit lovers
As anyone who has a fruit basket at work knows only too well, the pears are always the last to go. So it will alarm nobody to learn that stocks have fallen to 30,000 tonnes – 88.5 percent lower than this time last year. Meanwhile, apple stocks are also in decline, currently sitting at 62 percent lower than this time last year. 
Just like Pyramus and Thisby: cross-border couple getting all the headlines
One of the most popular non-serious coronavirus stories doing the rounds right now is how an 89-year-old German man from Süderlügum is meeting his 85-year-old Danish girlfriend from Gallehus every day to share lunch across the closed border. The exact location of their daily picnic is at the Møllehus border crossing, which is near the German town of Aventoft. Sometimes they wash their biscuits down with coffee, and on other occasions with a shot of De geele Köm. The news of their rendezvous was not originally broken by the media, but instead Tonder mayor Henrik Fredsen who wrote about them on Facebook.
Cut your hair and donate the money, advises health authority head
Søren Brostrøm, the head of the Sundhedsstyrelsen health authority, recently gave himself a crew cut and then sent the price he would normally pay for a haircut to his regular barber. "It's a bit uneven at the back," he wrote on Twitter. "And I'm sure my hairdresser Alaa-Eddine will be asked to correct similar handiwork when he reopens again. In the meantime, I've sent him what I usually pay via MobilePay." 
Danes can't get enough of Mette
Danes have responded well to how PM Mette Frederiksen is handling the coronavirus crisis. Her party Socialdemokratiet has shot up 4.7 percent in the national polls to 31.5, according to Voxmeter. It's the party's highest rating since October 2006. Some 85.2 percent back the government's handling of the crisis, with only 4 percent disapproving.