Business & Education
A plague on all your houses – back when self-isolation didn't quite cut it in Denmark
---
This article is more than 3 years old.
Learning from history to fight the coronavirus: how Denmark saw off other epidemics to hit these shores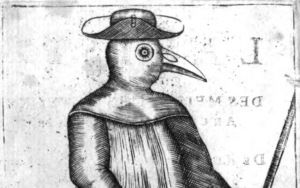 If this was an apocalyptic sci-fi film, it would be normally be around about this time that somebody discovers a cure (often a means of defeating the aliens), so Steven Spielberg can end it on a sickly sentimental note.
But as we approach the third week of the coronavirus lockdown (or is it the fourth – forgetting when it started is always a sign that something is terminal), one thing is clear.
Nobody will forget the coronavirus crisis in a hurry. It has led to the biggest upheaval in life since World War II.
Chillingly predicted
Nevertheless, it is not the first time that Denmark has been hit hard by an epidemic or pandemic, and there is no doubt that our accumulated experiences make us wiser.
Did you know, for example, that Anders Fomsgaard, a professor at the Virus Research & Development Department at the State Serum Institute, more or less predicted the current outbreak barely 20 months ago.
"It's just a question of when it will come," he chillingly predicted in August 2018.
Learning from history
So let's take a look through the history books to see how Denmark previously persevered through some of its most trying weeks.
Here are five other epidemic/pandemics that rocked the country, turning the everyday lives of the Danes upside down.
Who knows: maybe our current experience will make us better prepared when the next, more deadly virus inevitably arrives.
1711: Black Death kills 23,000
The last time 'den sorte død' visited Danish shores, it wiped out a third of Copenhagen's population.
The Danes had the Swedes to thank for passing on this farewell instalment of the bubonic plague, which took root for three terrifying months in 1711.
Ironically, perhaps, but the Great Northern War (1700-21) was raging between the countries at the time, and Denmark's borders were accordingly sealed. But not to plague, it transpired. 
Carried by fleas living off rodents it entered via Helsingør and reached the capital via the postal routes. 
In most cases, it took around a week for infection to give way to fever, vomiting, lesions and death, and Copenhagen began to acutely feel the effects in the last week of June. 
By then, most precautions (quick burials, no contact with the infected, and limited movement in and out of the city) were too late.
A former military grounds at Wodrofsgård was commandeered to treat and hopefully contain the disease, where survivors were entreated to stay and care for the sick.
In late August, the outbreak finally began to slow.
READ MORE: ABBA, IKEA, and Björn Borg. And in 1711, they gave us plague
1918-19: Spanish flu kills 18,000
Globally, the Spanish Flu killed approximately 50 million people out of an estimated infection rate of 1 billion between 1918 and 1920, but in Denmark the fatality rate was only 2 percent of those infected, so just 0.2 percent of the population.
As the Danish figures suggest, some areas were harder hit than others across the world. In some Inuit communities in Alaska, for example, 90 percent of the population was wiped out.
Denmark did not want for infections though. In just one week in July 1918 there were 3,862 in Copenhagen, with the 20-40 age bracket seemingly the most vulnerable. 
The authorities failed to react and for a while they were vindicated as the infection rate slowed right down. So when the flu returned with a vengeance in the autumn, they were again unprepared to deal with it effectively. 
It was not until midway through October 1918 that the city's cinemas, theatres and amusement parks were closed. Places of learning, meanwhile, had closed, but only because most of its students were ill at home.
READ MORE: Ominous Spanish Flu prediction
1853: Cholera kills 4,500
From June-October 1853 Copenhageners were not safe in their homes – that was kind of the problem. 
Old buildings and defective sanitation and sewage systems combined to serve the Danish capital with a huge cholera epidemic.
More than 7,000 were infected, of whom 4,500 died – most particularly among the over-70s, who saw their number dwindle by a sixth.
READ MORE: Back when the world's most liveable city was a prison toilet
Many were moved away, mostly from the most vulnerable parts of what is now the city centre, to take shelter in tent camps in the green belt surrounding the capital, and this quickly slowed down the spread of the disease. 
One thing was made clear by the outbreak: Copenhagen needed more space. The city ramparts were accordingly ripped down (some still survive in Kastellet), as the capital spread into what is today Nørrebro, Vesterbro and Østerbro.
New housing was built with better sanitation, while wholesale changes were made to the city's sewage system. 
READ MORE: 19th century bottled excrement could provide valuable cholera insights
1952: Polio kills 348
A poliomyelitis outbreak in Denmark in 1952 saw 2,722 patients develop the illness in just six months. It would end up claiming the lives of 348 Danes.
Following the rapid deaths of 27 out of 31 children being treated, Danish anesthetist Bjørn Ibsen came up with an inspired idea to tackle the respiratory paralysis killing them. 
He hooked the still living patients up to man-powered ventilators, and teams of medical students from the university spend hours physically pumping air into their lungs. 
The ventilators required 200-odd students at a time to continually squeeze a rubber bag attached to a tracheostomy tube inserted through an incision just below the larynx.
At the height of the epidemic, 70 patients were manually ventilated, with the students working in six or eight-hour shifts. In total 1,500 took part, clocking up 165,000 man hours.
Their efforts reduced the mortality rate of the patients down from 90 to 25 percent. In total, 7,000 Danes were affected, with many suffering a life-long affliction.
Some 348 people died during the major polio epidemic, and many survivors had to live with lasting injuries after being affected by the disease.
1980-2005: HIV infects 4,000
In 1991, the AIDS virus took over as the primary cause of potential years of life lost (PYLL) among men aged 25-44, peaking in 1993 with 29 percent. 
Danish doctors first started to detect AIDS in 1981, primarily among gay men and drug addicts. Symptoms included high temperatures, unsightly spots on the skin and rapid weight loss.
A front-page headline in Politiken newspaper in December of that year read: 'Homosexuals hit with rare cancer'.
Less than three years later, French and US doctors combined to identify HIV as the cause – a virus primarily passed on during unprotected sex or the sharing of a syringe. 
While it was responsible for a 0.76-year drop in life expectancy for men between 1991 and 1995, it only knocked 0.08 years off the expectancy of women.
The number of fatal cases started to decrease significantly after the introduction of anti-retroviral treatments in 1998, by which time it accounted for just 5 percent of PYLL.