News
Coronavirus Update: Report suggests lockdown has saved 200 lives in Denmark
---
This article is more than 3 years old.
Elsewhere, SAS embarks on record flight to bring back stranded Danes, and Tivoli postpones its opening day again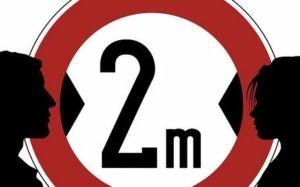 According to a new report from the Imperial College London (ICL) university, the coronavirus death toll in Denmark could have been three times as high had the country not taken the preventative measures it has. 
The report showed that the measures taken by 11 EU countries to limit the spread of COVID-19 may have averted the deaths of up to 120,000 people. 
"Our results suggest that interventions such as social distancing or lockdowns have already saved many lives and will continue to save lives," said Axel Gandy, the head of statistics at the Department of Mathematics at ICL. 
"The impact of the pandemic is extreme – but it would have been much worse without the interventions. Keeping interventions in place is crucial for controlling it."
So far in Denmark, 104 people have died from the coronavirus – a figure that could have been about 200 people higher in March alone had the government not ushered in restrictions aimed at stopping the spread.
---
SAS flight sets distance record 
The SAS flight that left Copenhagen late last night to pick up around 200 stranded Danes in Peru will set a new record for the longest ever flight for an SAS plane. 
The Airbus A350-900 will travel 11,086 km to Lima, beating the previous mark set 50 years ago during a six-stopover odyssey to Santiago, Chile. It will also set a new SAS record for the longest direct flight.
According to Check-in.dk, it is the first time that a SAS flight will have visited the South American continent in 30 years.
---
Tivoli again postpones opening day 
Copenhagen's popular Tivoli amusement park has announced that it has once again postponed its summer season opening day by a month. 
Due to open today after initially being postponed by the coronavirus, Tivoli annonced that it instead plans to open on May 1. 
The park will extend the summer season until October 4.
---
Job ads in decline 
Due to the coronavirus crisis, the number of job ads posted online has dropped significantly in recent weeks.  
According to search engine Jobsearch.dk, the number of advertised jobs fell from 27,570 on February 15 to 18,656 today – a decline of about 33 percent. 
Thomas Barfod, the head of Jobsearch.dk, described the development as "something close to a collapse". 
---
Huge aid package for Africa 
A broad majority of Parliament has agreed to set aside hundreds of millions of kroner to help millions of refugees in Africa fight the coronavirus crisis. 
A total of 650 million kroner has been earmarked for the initiative by temporarily stopping other development projects. 
The funds will go to Danish NGOs, UN organisations and efforts being led by the African countries themselves.