News
No respite: Birch pollen season starts off strong
---
This article is more than 3 years old.
Pollen levels are already high as allergy sufferers enter uncharted territory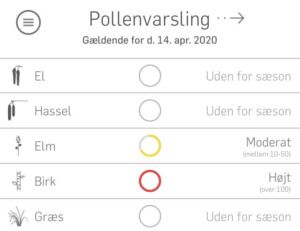 As if allergy sufferers didn't have enough to worry about these days. Well, now the birch pollen season has started in Denmark.
The season officially started on Thursday last week, but things really kicked off today with high pollen levels being registered. Denmark's asthma and allergy association is already busy.
"We've logged so many inquiries that we can't keep up. There is really a need to talk and ask questions at the moment, so we have expanded our phone hours," Anne Holm, the deputy head of Astma-Allergi Danmark, told TV2 News.
"People are afraid of this. It particularly revolves around the angst of the unknown – what happens if I get corona and have asthma?"
READ ALSO: Copenhagen institutions will start opening up on April 15
Similar symptoms
Hay fever can impact people in various ways, but for some the effects can influence the respiratory system in a way that is similar to that of a mild case of the coronavirus.
Holm said that each case should be handled individually and general practitioners are the best option for advice.
"If you are in doubt about whether you have asthma, hay fever or the conronavirus, because the symptoms can be similar, then call your doctor," said Holm.
To stay on top of the pollen levels in Denmark, download Astma-Allergi Danmark's app here.