News
Coronavirus Round-Up: Denmark scraps millions of inferior face masks
---
This article is more than 3 years old.
Elsewhere, Danish hospitals are testing promising meds, Danes seem to be slacking on hygiene and FC Midtjylland offers drive-in football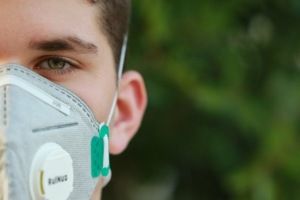 The Sikkerhedsstyrelsen safety technology authority has been forced to throw away millions of inferior face masks obtained for Denmark's health workers.
Of the 20 million masks that the state has ordered, about a quarter (5 million) have been scrapped because they don't live up to quality standards.
Sikkerhedsstyrelsen performs random checks to ensure the masks are certified correctly.
"We're opening boxes to find, not one [as stated in the documentation], but five various types of products. That's when alarm bells start ringing," Stine Pedersen, the head of production at Sikkerhedsstyrelsen, told DR Nyheder.
READ ALSO: Coronavirus testing tents popping up across Denmark
Price up, quality down
There are three different categories of masks, depending on how well they filter: FFP1, FFP2 and FFP3 (highest filter level).
Sikkerhedsstyrelsen checks the latter two categories.
The price of face masks on the global market has skyrocketed in recent weeks due to the coronavirus crisis.
---
Expert: No vaccine in 2020
Researchers across the world may be working on a coronavirus vaccine, but it won't come in 2020 according to Nikolaj Brun, an expert with the Lægemiddelstyrelsen medicines agency. Brun said he was optimistic about a vaccine being ready for the public in 2021, but would be disappointed if the world has to wait until 2022. Lægemiddelstyrelsen is currently assessing 12 vaccine projects across four continents that are evaluated to be contenders. Additionally, there are over 30 other research teams working on a vaccine, including one at the University of Copenhagen.
---
Denmark testing promising meds
Several hospitals in Denmark are taking part in a promising international study testing the medicine Remdesivir. Around 40 coronavirus patients in Odense, Aalborg, Aarhus, Nordsjælland, Hvidovre and Roskilde are part of the study, which is expected to yield results by the end of April. Remdesivir was developed to combat other virus infections like Ebola and SARS. It's too early to say whether it is a success, but the results have looked promising so far. The study is being headed by the US in co-operation with the biotech firm Gilead Sciences.
---
Danes slacking on hygiene, group gatherings
According to a new study by Aarhus University, the number of Danes who are following government guidelines on hygiene and social distancing has fallen recently. The study has identified three types of behaviour: how often people wash hands, if they avoid gatherings of over ten people, and self-perceived rule following. The findings revealed that the Danes were initially good at following restriction guidelines when the country went into lockdown mode on March 13, but have since started slacking.
---
Confirmed cases in health workers similar to general public
The frequency at which health workers in Denmark contract the coronavirus is almost on a par with the general public, according to new findings. A total of 20,000 health workers have been tested for antibodies in the capital region and about 4 percent are revealed to have had the coronavirus. Meanwhile, bloddonor screenings reveal that about 3 percent test positive for antibodies. Hundreds of thousands of test kits are expected to arrive in Denmark in the coming weeks and field tents have popped up across the country in preparation.
---
Coronavirus hasn't led to higher mortality rates
Since the first coronavirus-related death in Denmark on March 14, a total of 4,794 Danes have died. That's roughly the same amount of people who died over the same period last year and the year before, according to figures from Danmarks Statistik. Over the same period in 2019, 4,498 Danes died, while 5,131 died in 2018. In fact, the mortality rate in Denmark from March 14-April 12 has remained at around 4,500 over the past five years, depending on flu epidemics.
---
City hospital closes coronavirus ward
The number of seriously-ill patients at the city hospital Rigshospitalet has dropped so low that it has temporarily closed its intensive coronavirus ward. The coronavirus ward, which opened on April 1, has room for 30 patients and is located in the newly-built north wing of the hospital. Instead, coronavirus patients requiring critical aid will be treated in the hospital's main building. The hospital underlined that it would be able to quickly reopen the coronavirus ward again should a new wave hit Denmark.
---
Big traffic projects could be delayed
According to a document from the Transport Ministry, the coronavirus crisis could end up delaying three significant traffic projects in Denmark. In a note to Parliament, the transport minister, Benny Engelbrecht, wrote that the pandemic is impeding the Sydhavn Metro construction, the Odense light rail project and the Storstrøm Bridge project. The work is particularly being challenged by foreign workers being hit with travel restrictions and delayed deliveries of materials.
---
Nørrebro elderly care home hit hard
According to Copenhagen Municipality, 12 residents at the Plejecenter Sølund elderly centre in Nørrebro have died from the coronavirus over the past month. However, about half of those who died would likely have died within a short time anyway because of other health issues. About 15 (seven percent) of the care workers at the centre, one of Copenhagen's biggest, have tested positive for the coronavirus. As of April 16, 18 citizens have died at four different elderly centres in Copenhagen.
---
Fewer burglaries as people stay home
Due to the many people remaining at home during the coronavirus pandemic, there have been fewer burglaries in the first quarter of 2020, compared to the last quarter of 2019. According to Danmarks Statistik, 5,535 burglaries were reported in Denmark – down by 3.6 percent compared to the previous quarter.
---
FCM to offer drive-in football
FC Midtjylland football club has announced it will take alternative measures when showing its games to fans when the football season opens up again to empty stadiums. The Superliga leaders have decided to offer fans a drive-in experience to watch games outside their MCH Arena stadium. Upwards of 10,000 fans will be given access to the parking lots outside the stadium, and two big screens will be set up so over 2,000 cars can park and watch games.
---
Mo success for FCK
FC Copenhagen talent Mohamed 'Mo' Daramy brought home the first silverware of the year for the Lions by winning the Stay and Play Cup tournament on Playstation. The tournament, which saw real footballers represent their clubs in a FIFA tournament, ended up raising almost 7 million kroner for a global coronavirus fund. Daramy, 18, beat players from HJL Helsinki, Ajax Amsterdam, FC Porto, AIK Stockholm and then Djurgårdens IF in the final to claim the trophy. Check out the semi-final and final in the video below.