News
Coronavirus Round-Up: Minister warns Denmark's Muslims not to break rules during Ramadan
---
This article is more than 3 years old.
Ahead of the month-long festival starting tomorrow, Mattias Tesfaye cites claims that infected immigrants are disproportionately represented in hospital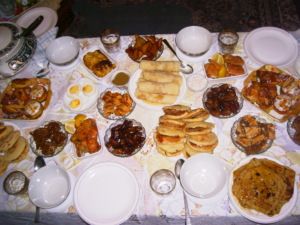 Mattias Tesfaye, the immigration and integration minister, has warned all Danish Muslims to adhere to the coronavirus guidelines during Ramadan, which officially begins tomorrow and continues until May 23.
With the ban on more than ten people gathering in one place in force until May 10 at least, Tesfaye is worried Muslims might defy this recommendation when extended families, and even friends, come together to eat after the sun sets.
Writing on Facebook, he referred to how there are a disproportionate number of immigrants in hospital with the coronavirus.
"Tonight your festival starts: Ramadan," he wrote. "But it must NOT result in an explosion of infected people."
Tesfaye advises all Muslims to enjoy the breaks in the fast with just the people they live with. Video calls and digital aids can be used, he suggests, to connect with larger circles.
Correlations of concern
Despite Tesfaye's claims, there is no Danish overview of the ethnicity of those who have been hospitalised with coronavirus.
However, TV2 cites figures from other countries to back up the minister's viewpoint, which he formed after consulting with Danish doctors.
For example, in Sweden, Somali-descent immigrants account for 0.5 percent of the population but 4.5 percent of those hospitalised with the coronavirus . 
In some Belgian regions, Turkish-descent immigrants account for 50 percent of the hospitalised coronavirus patients. 
And in the UK, BAME (black, Asian and minority ethnic) groups account for 16 percent of the deaths, but only 11 percent of the population. 
"There are behaviors and attitudes in these groups, for example in relation to illness and infection, which are not quite the same as the ones we are used to," Morten Sodemann, a professor of infectious medicine at Odense University Hospital, told TV2.
---
Pia Kjærsgaard jumps on falling asylum figures to ask for a rethink
Only 38 people have sought asylum in Denmark since the lockdown was introduced at the end of Week 11 on March 13, which effectively closed the country's borders. Up until that point, asylum figures had been ranging from 30 to 55 a week, so in keeping with 2019: a total of around 400. But in Week 12, only 16 applied, and over the next three weeks, only eight, nine and five. Former DF leader Pia Kjærsgaard believes the coronavirus respite offers an opportunity for a rethink on immigration. "The problem is not going away because nobody is coming to the border right now," she told Kristeligt Dagblad. "We should take it much more seriously how we help in the regions [they come from]."
Zoos reverse decision to open on May 1 after authority amendment
Four zoos, which earlier this week indicated they were ready to open to the public on May 1, have reversed their decision after the authorities changed their recommendations. Following guidelines issued by the police, Copenhagen Zoo, along with establishments in Aalborg, Odense and Givskud, were confident they would be ready, but then the Sundhedsstyrelsen health authority added a guideline of its own, and it was not good news. "In order to avoid uncontrolled spread of the infection, it would be inappropriate to open amusement parks and zoos that have been closed so far," it noted. Many zoos now fear they face bankruptcy should the enforced closures  continue for too much longer. 
Rigshospitalet working on antibody test
The whole world is conducting tests, it seems, whether it is to produce faster coronavirus tests, a vaccination or a way of finding out whether somebody has had the virus, but perhaps been unaware. Working on the latter, a team from the Diagnostic Center at Rigshospitalet in collaboration with Novo Nordisk and the University of Copenhagen (along with support from the Carlsberg Foundation) have appealed for help from anyone who has had the coronavirus, so they can fine-tune their antibody test, which they claim will have advantages over the ones Denmark is buying from abroad – especially if the virus mutates. The team needs at least 200 participants – anyone interested should ring 3545 7534 between 09:00 and 12:00.
Coronavirus can be considered a work injury, rules ministry
The Employment Ministry has confirmed that the coronavirus can be considered a work injury if the virus was probably contracted at work – as has been the case with hundreds of healthcare workers. The labour inspection authority will accordingly change the rules pertaining to injury compensation. "We must cherish those who make an extraordinary effort in our common fight against coronavirus these days," commented the ministry. "It is important that it is crystal clear that a coronavirus can be recognised as a work injury if the disease is caused by the work."