News
Coronavirus Round-Up: Some outdoor sports can resume with a maximum of ten people
---
This article is more than 3 years old.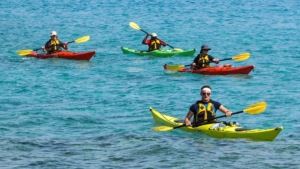 The City of Copenhagen has announced that a few sports associations can resume training at selected outdoor sports facilities as of April 25.
Danish Sports Association (DIF) and DGI have presented a number of recommendations for outdoor sports activities that require no body contact: tennis, athletics, beach volleyball, shooting, motor sports, frisbee golf, BMX cycling, kayaking, canoeing and SUP.
The number of competitors should be no more than ten.
---
Biggest monthly decline in retail sales in 20 years
Danmarks Statistik has reported that the Danish retail industry experienced a 2 percent dip in sales from February to March – the largest monthly decline since the organisation first began recording such activities in 2000. In contrast, retail sales never fell by more than 1.4 percent in a single month throughout the entire 2008-09 financial crisis. The drop coincides with Coronavirus Crisis restrictions enacted in mid-March that forced the closure of nearly all physical retail shops. The drop also comes despite a reported 20 percent increase in total internet commerce compared to March 2019.
IKEA widely criticised for reopening
Despite an earnest request from the minister for business, Simon Kollerup, to the retail sector to return slowly, all of the nation's IKEA stores opened their doors to the public on Monday. Pictures of long queues in front of the stores have led to widespread criticism. Some experts told BT that the stores might have to shut down again or face significant criticism regarding their social responsibility if IKEA employees are found to have infected their customers. However IKEA has clarified that a lot of precautions have been taken and that it hasn't broken any laws.
Historic bookstore succumbed to the virus
The country's oldest bookstore chain, Arnold Busck, has filed for bankruptcy before the Probate Court, reports KbhLIV. The 124-year-old company claimed that the shutdown has been hitting the industry hard – since mid-March the stores have been closed and employees have been laid off. The chain has shops on Købmagergade in the city centre and Spinderiet in Valby.