News
Danish Round-Up: Second-generation immigrants work more than their parents did 20 to 40 years ago
---
This article is more than 3 years old.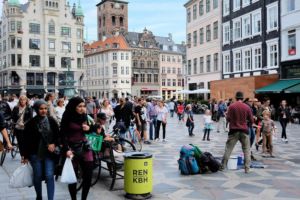 Increasing numbers of non-Western descendants have jobs – particularly compared to their parents, when they were the same age in the 1980s and 1990s.
Comparing the employment rate of non-Western descendants aged in their 30s with that of their parents, a study of Danmarks Statistik reveals that 70 percent of the men and 65 percent of the women were in employment in 2017.
The biggest difference is between males with a higher education and their counterparts in the 1980s and 90s: some 89 percent compared to 59 percent. Likewise there was a large gulf among the women.
The gap seems to have closed between ethnic Danes and immigrants.
---
Russian ambassador in Denmark: US threatening Arctic peace
The United States donation of 83 million dollars to Greenland announced six days ago has described as a threat to peace in the Arctic by Russia's ambassador to Denmark, Vladimir V Barbin, according to Politiken. In response, US ambassador Carla Sands said that the donation is a shield to protect Greenlanders from "malign influence and extortion" from China and Russia. Also, in an article in Altinget, Sands warned against Russia's "aggressive behaviour" and increased militarisation of the Arctic. The behaviour of both countries is challenging the Danish foreign policy in the region, said Hans Mouritzen, a senior foreign policy senior researcher at the Danish Institute for International Studies, told Politiken.
NFL beckons
Steven Nielsen from Dragør, 23, who has started at left tackle for the University of Eastern Michigan since his freshman year, was on Sunday signed up as a free agent by the Jacksonville Jaguars after he failed to be picked in the NFL Draft. The 204-cm tall, 140-kilo offensive lineman could become the third ever Dane to play in the NFL if he makes the final roster in August.
Femern Belt underwater tunnel starting next year
The most expensive infrastructure project in Denmark, the so-called Femern Belt link, has been green-lighted by the government with a broad political majority. Now the project is set to commence on 1 January 2021 on the Danish side and by mid-2022 on the German side. The 18-km tunnel will link northern Germany to the Danish island of Lolland, thus reducing journeys times from 60 to seven minutes. Calling it a 'new gateway to Europe', the transport minister, Benny Engelbrech, said the Femern Belt will create new jobs in Lolland and that the project will boost the economy again. The Femern Belt link is now expected to open in mid-2029.