News
Coronavirus Round-Up: Teenage infection rate doubles
---
This article is more than 3 years old.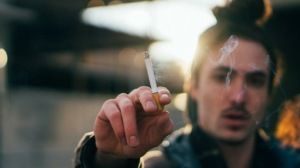 Bucking the national trend, considerably more young people are infected with the coronavirus than at the start of April, and their slack approach to adhering to the restrictions could come back to haunt them.
Later today they will get a strong indication whether they will be allowed to return to school this month – possibly from May 11 onwards.
The ninth grade, 15 and 16-year-olds, are particularly concerned they will miss out on all the fun of finishing their public schooling.
Children until the fifth grade, so as old as 12, have already returned.
Important day
According to Kåre Mølbak from Statens Serum Institut, there are 11 cases per 100,000 teenagers –  more that double the four cases per 100,000 recorded in weeks 12-14.
Kåre Mølbak is concerned that young people are not following the precautions in the same way as adults, and his opinion is important.
He will present his findings to Parliament today, where party leaders will debate whether the teenagers can return to school.
---
Bill Gates wants to produce coronavirus meds in DK
Microsoft founder Bill Gates has signed an agreement with the company Fujifilm Diosynth Biotechnologies Denmark in Hillerød to produce coronavirus medicine, reports Børsen. Although Fujifilms is mostly known for making camera equipment, it has four pharmaceutical factories based around the world. The agreement stipulates that the company will reserve its manufacturing facilities and a significant share of its capacity to produce the drug. However, the agreement will reportedly only take effect from 2021.
Elderly centres account for a third of the death count
One third of the people killed by the coronavirus in Denmark are residents of nursing homes, according to a new report from Statens Serum Institut. The total death toll was 394 yesterday, and 133 of them were registered with nursing homes. Capital Region has lost the most residents from the virus: 88 deaths out of its 133. According to the report, 425 confirmed cases are distributed among 88 different nursing homes in 45 municipalities. Around 9 percent of all Danish nursing homes have had a case. Those infected at nursing homes are on average 81 years old.
300 autopsies to map damage done by virus
Danish pathologists are investigating 300 autopsies to learn more about the coronavirus in connection with a project supported by the Lundbeck Foundation. According to the foundation the autopsies are of hospitalised patients infected with the virus to varying degrees when they died. Researchers believe they could acquire crucial knowledge about the current crisis. "Autopsies helped to map HIV back in the 1980s," forensic doctor Jytte Banner told DR.
Large stores hit by new guidelines
A new set of guidelines have been released by the Danish government concerning stores larger than 10,000 square metres, such as Ikea, which reopened across Denmark five days ago. In small stores, a minimum of 4 sqm per customer must be enforced, but in the larger stores, the government rules there must be 20 sqm. Stores between 2,000 and 5,000 sqm should provide 8 sqm, and stores between 5,000 and 10,000 in size some 10 sqm. In all areas, customers need to be able to keep a two-metre distance from one another.
Non-Western immigrants losing their jobs at disproportionate rate
People with a non-Western background are losing their jobs far more quickly then others, according to new figures from the Labor Movement's Business Council (AE), based on data retrieved from Danmarks Statistik and Jobindsats.dk. They account for 7.5 percent of the total number of employed people in Denmark, but 14.4 percent of all those made unemployed between March 9 and April 9.
Islands Brygge ban lifted
As of May 1, Copenhagen Police has lifted the temporary stay-ban enforced in the waterfront area in Island Brygge. In order to help people keep a two-metre distance from one another, the police have created new paths and marked out some 40 sqm areas suitable for gatherings of up to ten people. Also, posters have been put up in the area reminding visitors of the recommendation by the health authorities.
Faeces can reveal second wave of the coronavirus
The country's largest wastewater company BIOFOS is collaborating with the Food Institute at DTU for a research project that will provide more knowledge about antibiotic resistance in metropolitan areas, according to Ama'r Liv. Researchers believe the samples from the three treatment plants, where the faecal remains of 1.2 million people end up, will yield a good insight into the spread of the infection. DTU's data from April reveals that more traces of the coronavirus have been found in the wastewater from the sewage treatment plant at Avedøre (located in Amager) than from Lynetten, with gathers from central Copenhagen respectively. Continued analysis of the wastewater samples may, therefore, reveal another wave of the coronavirus early.
Test to reveal you have the coronavirus early    
Researchers from Aarhus University, DTU and Rigshospitalet are developing prick tests to detect coronavirus before patients are infected with the coronavirus. The test can also be used to identify patients with an elevated risk of being severely affected. The researchers have received a grant of 2.8 million kroner from the Danish Research Foundation to develop the test, which is expected to be ready by 2021. The test is based on the so-called 'APTASHAPE' technology, whereby data from patients' blood is converted using artificial intelligence into a biological fingerprint,  before being 'translated' into markers of disease through mass spectrometry.
Those infected at nursing homes are on average 81 years old