News
Trapped on their travels: Heartbreak hotel – Marriage plans a no-Goa for now 
---
This article is more than 3 years old.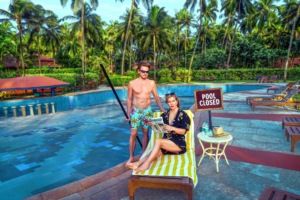 It makes a change to be championed in the media for something other than your acting.  
Referring to the Danish actress who in March courageously gave up her place on a home-bound flight to others, nordjyske.dk proclaimed: "Dina Rosenmeier is a hero who deserves a medal."  
Few would disagree. 
India inbound    
The renowned actress, who is well known to Copenhagen theatre-goers as the star of many House of International Theatre (HIT) productions, is also widely respected for her humanitarian work. 
Rosenmeier made her directorial debut in 2011 with the award-winning documentary 'A Journey in My Mother's Footsteps', an intimate portrait of her 75-year-old mother Jessie Rosenmeier and her dedication to improving the lives of thousands of children in India. 
And aptly, it is in India where CPH POST tracked her down.  
Ultimate gesture 
She has now been quarantined there for over a month, in stricter conditions than in Denmark, but it could so easily have been avoided had Rosenmeier boarded a Danish-bound plane in March.  
Instead she gave up her seat and opted to remain in western India in the company of her fiance Willi, and while their stay has been something of an early honeymoon – in the sense that it has been like spending it on The Moon itself – she longs to return to Copenhagen and her life in theatre.  
After all, this is an actress who once said: "Take away my theatre and you might as well take away my last breath."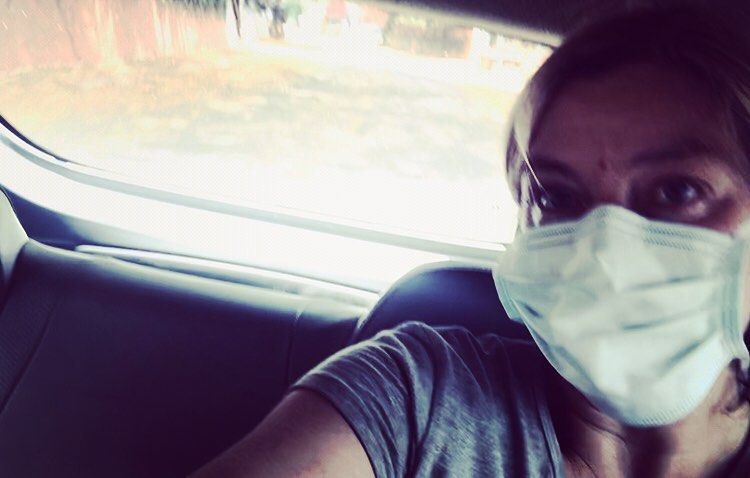 ---
You're locked down in India. How have the last two months been for you? 
In the beginning, it was magical, but then the adventure started. It was late February when I first arrived in Mumbai. Vatsalya Foundation, a shelter organisation and skill centre for street children, which my mother and I have been supporting for years, is always my first stop. It is incredible the progress they have made. And then I visited some dear family friends in Kolkata. Back in the day, it was this couple who introduced my mother to Mother Teresa, thus marking the beginning of her philanthropic work for children in need. Following in my mother's footsteps, I fell in love with this country too.  
And then? 
Blithely travelling around together with my boyfriend, we found ourselves in Goa in western India on the 9th and planned to stay there for ten days. But then, everything changed. 
Was it scary when the lockdown was announced? 
The lockdown announcement caught us off-guard. The government of India announced it with very short notice. All international and domestic flights were suspended, and all the hotels closed one by one. People went from one day to another without access to groceries. Suddenly it felt like a post-apocalyptic war-zone. Face masks were obligatory and there were police checkpoints everywhere. It was and still is a surreal experience. 
What did you do? 
First thing was to try to rebook our flights, but it was impossible. Secondly, the fact that the hotels were shutting down was extremely worrying because it was uncertain whether we would find accommodation and for how long. But thanks to Taj Hotels, we have managed to stay safe here in the hotel together with all their sweet employees.  
Did you panic? 
I do have moments of great anxiety, but I have also known India since I was a little girl. It is calming to know there are family friends and contacts we can reach out to all over the country in this time of distress. I just keep telling myself how extremely fortunate we are to be safe here inside the hotel property. Until now we have been able to continue extending and, as we speak, we are still here. On that note, I would like to thank the Taj Hotels for their kindness towards us.  
What is the story behind the photo ?  
Last month during the first three-day lockdown, Mumbai filmmaker Raman Lamba asked if we would like to do a Bollywood style photo session by the waterless pool. This was such a fun and creative day…  little did we know that the newspaper in the shot, with the headline "India inches nearer to total shutdown", would be the very last printed version we would receive while stranded here indefinitely. Now we treasure the carefree moments from before the world changed. 
How are you coping? 
Many couples and families are separated from each other, so even though we both miss our families back home terribly, we do appreciate how fortunate we are that we are at least together in this predicament.  
I understand you've also been helping some of your fellow Danes. 
The Danish Embassy has been doing an amazing job at finding solutions for displaced Danes to return home. However, due to a lack of repatriation flights, we have been depending on the mercy of other EU countries having some spare seats on their departures. Goa is a large state, several hours drive from the north to the south, and it is not easy to travel to the airport – especially now when it is illegal to be outside. I therefore created a map of all the Danes stuck in Goa, with an overview of how many we were and in which areas, so when any opportunity for evacuation would arise, we would be able to quickly gather and go. I also assisted some of them in making the flight bookings and getting safely to the shuttle pick-up locations. 
Have you not been able to leave yourself? 
There are many Danes in a worse situation than ourselves – for example, one Danish woman had run out of food and her area was becoming dangerous – and as I got to know more of them, I realised there were families with small children, elderly people and some with health issues who needed evacuation first and foremost. I used to live in NYC, and on 9/11 I remember all too well the desperate feeling of being unable to get out of the US. I think that is why I prioritised getting the ones who really needed to get back to safety in Denmark out of India first. 
Is it hard to be stranded in India? 
The Indian population are extremely kind to foreigners. We have not been exposed to any kind of hostility. On the contrary, we have been treated with respect and incredible generosity. We are in a hotel property with many frozen supplies, so we do have access to food. The biggest issue for me is that I'm dependent on a specific hypothyroid medicine, which is not on the market in India, so when our return flights got cancelled, I had a supply sent from Denmark, but it vanished in the mail. Therefore I had to find a doctor who would give me a substitute while here, and then get a driving permit to actually be able to leave the hotel and go to the pharmacy.  
What else keeps you busy? 
Willi and I have fixed some daily rituals in order to keep some sense of stability intact in this challenging, scary, and unpredictable world crisis. Yoga has always been part of my life, but being locked up in this curfew environment it has now become a daily routine, and we watch the sunset together every day. Additionally, I train my voice, reciting the lines I learned for the Harold Pinter play 'Old Times'. It was scheduled to be part of the HIT program for CPH Stage program in May, which was sadly cancelled. Hopefully, we will be able to continue the tour in the autumn. I am also involved with the SoMe promotion of the virtual reading events of the HIT, as well as being part of the PR team after being cast in several productions over the last three years. 
Any plans for the future you did not have months ago? 
Yes!! When we reached Goa, Willi proposed to me, so we actually have a wedding to plan. Only time will tell how and where this will take place.