News
Danish News Round-Up: More refugees leaving Denmark than arriving
---
This article is more than 3 years old.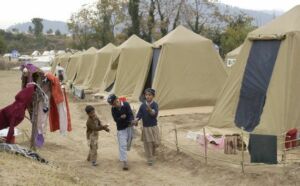 For the first time in nearly a decade, Denmark saw more people with refugee backgrounds leave the country than enter it in 2019, according to an analysis by the Ministry of Immigration and Integration.
The number of refugees leaving Denmark were largely made up of those from Bosnia-Herzegovina, Iraq, Somalia and Syria, while those migrating here mostly came from Afghanistan, Eritrea, and Iran – for a net loss of approximately 730 refugees.
"Lovely numbers"
The immigration and integration minister, Mattias Tesfaye, said they were "lovely numbers", telling DR that "it shows, in part, that we can keep the influx at bay by pursuing sensible policy in Denmark."
When questioned by DR whether the net loss means that Denmark can accommodate more UN quota refugees, the minister explained that the law states they must make that decision this summer and that "we have not made any decision at all yet."
Since 1989, Denmark has been receiving about 500 UN quota refugees per year – but the scheme was halted by the Danish government in 2015 following the Refugee Crisis and subsequent collapse of the European asylum system.
In 2019, Denmark began to receive quota refugees again, though on a smaller scale than before.
Outside forces
Some have argued that the net loss is attributable more to external factors at play than Danish government policies.
Eva Singer, the asylum manager at the Danish Refugee Council, told DR that it is not because there are fewer refugees in the world.
"On the contrary, this is because refugees have a harder time coming to Denmark for various reasons," she said.
Chief among them, she cites, is the EU-Turkey agreement to close the border at Turkey to migrants and not allow for further travel into Europe.
---
State to spend 30 billion on green renovations in public housing sector
The government is set to allocate 30 billion kroner from the National Building Fund toward green renovations for the public housing sector. The housing minister, Kaare Dybvad Bek, hailed the move as the largest housing agreement ever, revealing that 72,000 homes are currently on a waiting list for renovations that will be serviced in the short term. Renovations will take place over the period of 2020-2026, including measures such as window replacements and improved insulation, in order to make homes more energy-efficient. Around 1 million Danes currently live in public housing.
New app to help people sort waste
A new app, 'Waste Portal', is being launched in several municipalities to help inform citizens about how to best manage their waste disposal. Residents can also sign up for an SMS scheme through the app to contact the rubbish collectors in their area directly. The app, which provides sorting guides and other information, was a smash hit when it was first introduced in Stevns Municipality, where more than 2,000 of its citizens signed up for the SMS scheme on the first day. More than 19 municipalities can now access the app.
Denmark can save billions and lives by following diet guidelines
More than 1,000 lives and 12 billion kroner in economic benefits can be saved if Denmark's official dietary advice is followed by the people of Denmark, according to a new report released by the University of Copenhagen. The report. which was prepared in collaboration with the Ministry of Environment and Food, estimates that the dietary practices would result in fewer healthcare-related costs and improved work productivity. It highlights the consumption of more whole grains, vegetables and seafood, along with less red meat, processed meat, salt, and saturated fat as especially important to achieving the goals.
Man accused of Iran-backed murder plot in Denmark goes on trial
The trial of a man accused of an alleged plot to assassinate an Iranian exile and leader of the Arab separatist group ASMLA (Arab Struggle Movement for the Liberation of Ahvaz) opened on May 1 in Roskilde. The 40-year-old Norwegian-Iranian is charged with espionage and attempted murder on behalf of Iran following a major operation carried out by the PET intelligence agency and the police on 28 September 2018 that led to his arrest. The man denies the charges, and the Iranian government has denied any such plan to attack in Denmark. The verdict is expected at the end of June.