News
Archaeologists in Denmark discover huge defensive structure from the past 
---
This article is more than 3 years old.
Museum in Lolland estimates that the structure could have been upwards of 1,400 metres long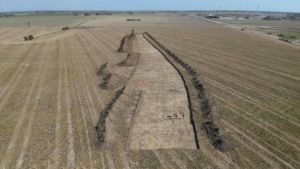 Archaeologists have unearthed a massive structure in Lolland that is believed to have been used to ward off an attacking army back in the Roman Iron Age. 
So far, 770 metres of the structure has been detected, but Museum Lolland-Falster estimates it could stretch to twice that.  
"This is a really big structure. It's taken a lot of work to build," Bjørnar Måge, an archaeologist and curator from Museum Lolland-Falster, told TV2 News. 
"We believe the structure was built around a kilometre from the coast between two impenetrable wetland areas – in a bid to stop attacking foe from entering Lolland."  
READ ALSO: Archaeologists unearth secret tunnel at Østerport Station 
Minefield of yesteryear
The structure involved the digging of long lines and rows of holes in the earth – at least 10,000 holes are estimated to have been dug. 
In similar structures discovered in Jutland, the defensive 'belt' was combined with sharpened poles. 
Describing it as a "minefield of yesteryear", Måge compared the holes to the spiked defensive ditches of the past that were given the name 'Caesar's lilies'. 
READ ALSO: Warm summer helping the 'flying archaeologists' to identify ancient settlements
Live-streamed excavation
Unfortunately, the structure on Lolland is nearly completely destroyed and the museum has been unable to accurately date the structure so far.
It is a safe bet it was built during the Roman Iron Age, a period spanning the first four centuries of the first millennium AD. 
In Hoby, near where the structure is located, archaeologists have found a grave of a wealthy individual from the Roman Iron Age. However, uncertainty over the date of the structure means they cannot link the two yet.
"We haven't found any signs of the belt being up-kept after its construction. It's been allowed to decay," said Måge. 
Tomorrow, the museum will live-stream its excavation of the structure and the public are invited to watch the transmission via this link.