News
Coronavirus Round-Up: Glostrup has highest infection rate
---
This article is more than 3 years old.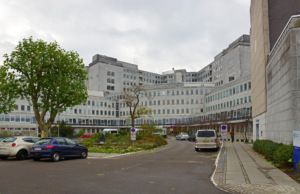 With a rate of 570 coronavirus infections per 100,000 people, Glostrup currently has the highest rate in Denmark, reports TV2.
Of course, there are nowhere nearly 100,000 people in the Greater Copenhagen suburb.
Of its population of 22,615, it has recorded 129 cases.
Vestegnen catching up.
However, figures from the Statens Serum Institut reveal that Vestegnen, the western suburbs of Copenhagen, is quickly catching up.
The five municipalities in the area – Vallensbæk, Ishøj, Hvidovre and Albertslund – are all seeing high infection rates.
---
Germany to open border with Denmark
Germany will start gradually opening the border with Denmark from mid-May, reports Flensborg Avis. The extent and timeline will be negotiated over the coming days. Schleswig-Holstein's minister president, Daniel Günther, has agreed with the German interior minister, Horst Seehofer ,to open the border with Denmark step by step from May 15. German Chancellor Angela Merkel is expected to meet with the 16 heads of state of Germany on Wednesday.
454 Danes charged with breaking coronavirus rules
According to the National Police, a total of 454 Danes have been charged with breaking coronavirus rules since since March 17, the day when a number of rules were introduced, including a limit on gatherings of just ten people. However, 33 of the charges were dropped. The figures show that the capital area accounts for a large portion of the numbers, including Copenhagen Police (142) and Western Copenhagen Police (126).
Bestseller cleared swirling rumour
The Bestseller Group, the Danish clothing and accessories company, has donated 100,000 coronavirus  antibody tests to the Capital Region. The donation was initially anonymous. However, as rumours spread that the donor might be a secret Chinese organisation, the company chose to come out. The head of the company, Anders Holch Povlsen, has also clarified that he has no financial interests in the Chinese manufacturer of the donated tests, Livzon, and that Bestseller has nothing to do with the follow-up order from the country.
Aid package portal for export firms
According to the Foreign Ministry, the Danish Trade Council has launched a COVID-19 help package portal to assist Danish exporters with mitigating the economic damage. The website contains an overview of other countries' current support measures: access to financial support, opportunities for compensation to local employees, or changing rules for paying taxes and fees. The portal will be constantly updated with new company-relevant initiatives.