News
Coronavirus News Round-Up: Themeparks, fitness centres and nightclubs least likely to open – report
---
This article is more than 3 years old.
Meanwhile, your name could be on the list for a random test next week … but despite the eerie vibe at those outdoor centres, it will be voluntary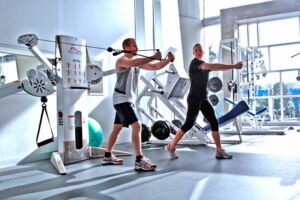 If you were looking forward to visiting Tivoli or your local gym next week, when lockdown restrictions are expected to be eased further, then think again.
According to a leaked Health Ministry assessment reported by TV2, themeparks, nightclubs, fitness centres, indoor physical sporting activities and boarding schools are considered to be very high-risk locations as Denmark continues to open following its coronavirus lockdown.
Low, medium and high risks
In contrast, outdoor areas, libraries, zoos and museums are considered low risk.
Most educational establishments (pre-teen and higher, for example), theatres, cinemas, restaurants, cafes, shopping malls, swimming pools, non-physical sporting activities and places of worship are considered medium risk.
Educational establishments that involve physical activity, outdoor physical sporting activities, establishments that involve excessive singing, education establishments frequented by teenagers, youth clubs, waterparks, playpens, bars and pubs are considered high risk. 
Experts from Norway
The assessment was carried out by experts at the Norwegian Serum Institute, who have emphasised that the assessments are "uncertain and simplified". 
But given PM Mette Frederiksen's resolve to permit the gradual opening of restaurants and cafes from next week, they would appear to be informing the government and other parties in their ongoing negotiations.
---
Your number might be up: random coronavirus tests to start next week
It's finally happening! Regardless of whether you have any symptoms, you might receive a message in your e-Boks today inviting you to have a coronavirus test next week. The State Serum Institute is randomly picking thousands of residents for voluntary tests confirmed the health minister, Magnus Heunicke. According to Heunicke, several thousand people will be notified – particularly in areas of the country where not many cases have been detected so far, partially to achieve a better representative sample of the population so far tested.
Hotel advocates urge government for clearer roadmap
Some 200 hotels, cafes and restaurants have gone bankrupt since April 1 due to the restrictions imposed during the coronavirus lockdown. Katia K Østergaard, the CEO of the hotel industry interest group Horesta, has urged the government to make sure its roadmap is clear when it confirms its easing of lockdown restrictions from Monday May 10 – or plenty more businesses will go bust, she warns. She believes the two-metre distancing rule needs to be cut to one metre, and that outdoor dining must be permitted.
A million fewer overnight stays in March
There about 1 million fewer tourist overnight stays registered in Denmark in March, according to figures from Danmarks Statistik. Compared to the same month in 2019, the numbers fell 59 percent from 1.63 million to 674,000. Hotels accounted for 726,600 of the fewer stays – 63 percent of the total – as its numbers fell from just under 1.2 million to just over 400,000. The figures from April are expected to be even worse.
Denmark well placed to cope with unemployment surge
Unemployment numbers have been soaring since March, but Denmark was sitting pretty at the end of 2019, with just 5.1 percent of its workforce (ages 15-64) without a job – the best rate among the Nordic EU states, although Sweden (6.5) and Finland (6.2) were not far behind. However, Denmark does not have the lowest rate, as the Czech Republic (2.1 ), Poland (2.9) and Germany (3.1) all had extremely low rates, according to the Arbejdskraftundersøgelsen figures. At the other end of the scale, Greece (16.9), Spain (13.9) and Italy (10.0) were all struggling. The EU average was 6.7 percent.
Pitch perfect: More choice for campers in the forest 
Given the expected increase in domestic summer holidays this year as fewer Danes venture abroad, the environment minister, Lea Wermelin, has confirmed that 77 state forests are being opened up to campers this year. The addition means campers now have a choice of over 275 forests. Among the new forests where camping is permitted are Svinkløv in Thy, Anebjerg in Silkeborg, Nørreskoven on Als and Ganløse Ore in Farum. However, campers are reminded that they must not stay in the same spot for more than one night, are only permitted to pitch two tents (each with a maximum of three campers) together, and must not light fires outside the designated areas.
How will coronavirus affect the future? It's bad news for hippies
Hugging strangers may be limited to particularly dramatic football games in the future, according to researchers from the Centre for Future Studies. Despite the name, the centre does not claim it can predict the future, but it is adamant that the habit of hugging a stranger to say hello is dead in the water following the Coronavirus Crisis. Among its other predictions, according to its head Jesper Bo Jensen, are that more people will move out of the cities, more people will support their local communities (help the elderly with shopping, support local stores etc), and that urban planners will rethink their focus away from micro apartments and other close-proximity living options. 
DTU helping to build new global platform for coronavirus data
DTU researchers are helping to develop a global platform for sharing coronavirus data that uses sequence analysis to create family trees that can help show how the virus has evolved and whether it is mutating. The platform will enable researchers from all over the world to share and retrieve raw data on the coronavirus's genetic material.