News
Danish News Round-Up: Helle's in a new relationship, but it's complicated
---
This article is more than 3 years old.
Former figurehead of Folketinget now a friend of Facebook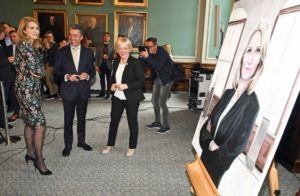 It's easy to see why Facebook has decided to hire former Danish PM Helle Thorning-Schmidt.
First off, the woman likes a selfie. Few will forget the moment in 2013 when she entreated Barack Obama and David Cameron, the then leaders of the US and UK, into joining her for a threesome.
There were those who thought she wanted a 'friends' shot with Obama, before Cameron poked himself into view.
Secondly, she has an interesting family. While her husband Stephen Kinnock is known to enjoy making home movies, father-in-law Neil is the kind of figure-of-fun the internet was invented for.
READ MORE: PM's husband a closet film star
Just don't ever share that photo of him inside a light bulb.
And thirdly, she's got style – she wouldn't have been nicknamed Gucci if she didn't.
Supervisory role
Thorning-Schmidt will be seated as co-chair of Facebook's new 'Independent Supervisory Council'. The council is tasked with assessing decisions made under Facebook and Instagram's content policies and procedures.
There are currently 20 members on the council that will later grow to 40 and includes a Nobel Laureate, two former editors-in-chief of major publications, and several with experience in law and human rights work.
The four co-chairs and Facebook jointly selected its other members, who they say collectively have lived in 27 countries and speak at least 29 languages.
Their focus will be on the most challenging content issues in the areas of harassment, hate speech, and privacy and safety protections.
Plenty of clout
"We will focus first on issues that are of importance to many users," promised Michael McConnell, who is a fellow co-chair and has led cases before the US Supreme Court.
"Next, cases that seem to be of great importance to the public debate and eventually cases that raise important policy issues."
Thorning-Schmidt sees it as a positive that Facebook is opening up its monolithic content management policies.
"I don't think any of us would accept this task if it wasn't very clear in the statutes that Facebook has decided it will follow our decisions," she said.
"Of course, it will be very embarrassing for Facebook if they do not live up to them."
---
Cinemateket and Meyers add four more film nights to drive-in line-up
Following the success of the drive-in cinema in Nordhavn, which kicked off on May 2 with the screening of 'Thelma & Louise', its organisers Cinemateket and Meyers have confirmed four more dates. On May 12, it will screen 'Taxi Driver', on May 13 'Cinema Paradisio' (in Italian with Danish subtitles), on May 14 the Danish film 'Blinkende lygter', and on May 15 'Blade Runner: The Final Cut'. All the films start at around 21:15. For more information, check out our original article.
READ MORE: Buy tickets like grease lightning for the drive-in cinema in Nordhavn!
Dina's coming home, but first she's got to drive across India
The Danish actress Dina Rosenmeier has confirmed to CPH POST today that she will shortly be returning to Denmark after being stranded in India for two months. In the last edition of the newspaper (online of course), it was reported how Rosenmeier has been helping fellow Danes to escape India – there are between 100 and 150 stranded there – and had even given up the opportunity to leave herself by passing on her tickets to more deserving causes, until now … To catch her May 14 flight, she will first have to take a potentially perilous 14-hour car journey from Goa to Maharashtra on which she intends to set out a day earlier than needed – just in case. Rosenmeier and her German fiance Willi will then fly from Mumbai to Amserdam, before parting company to return to their respective homes. "After many sleepless nights, we just got our tickets!!" she enthused. "I have a connecting flight to Copenhagen and Willi goes to Frankfurt. When we can cross European border from our respective countries … time will tell." 
READ MORE: Trapped on their travels: Heartbreak hotel – Marriage plans a no-Goa for now
Danish university to help with clean water initiatives in India
Researchers from the University of Southern Denmark have agreed to assist with the implementation of water supply initiatives in India in collaboration with the Indian government. More than 600 million Indians and 8 million children are at immediate risk to their health due to poor water supply and shortages. One major target of the initiatives is to provide access to drinking water and toilets for all households in India. Approximately 82 percent of rural houses in India do not have access to water. Water conservation will also be a focus as the average Indian consumes about 200 litres of water a day compared with only 100 litres for an average Dane.
Minister protects endangered butterflies
The environment minister, Lea Wermelin, has announced new protection guidelines for the country's endangered butterflies in response to a report from the University of Aarhus that documented the harmful practices of collectors. The protections include bans on the capture of 33 butterfly species as well as on the spraying and ploughing of some meadows, which can lead to the destruction of butterfly habitats. The World Wildlife Fund secretary general hailed the move and said it should help curb the continuous decline of rare butterfly species seen in Danish nature.
100 million miles away has never looked so close
Danish astronomer Heine Wieben Rasmussen has caught a stunning shot of a comet discovered on March 25 by the Solar Heliospheric Observer spacecraft. Located 100 km from Earth, in the constellation of Cetus, it really lit up for Rasmussen's lens as he stood in the mountains of Cederberg, a remote area of South Africa where he owns a mindfulness and astronomy retreat with his wife. 'Comet Swan', like most of its counterparts, is made up of cosmic snowballs of frozen gases, rock and dust that orbit the Sun, leaving tails of debris behind them as they travel across the sky. "I am very fortunate to live in the Cederberg in a truly dark sky area, where there is very little light pollution," said Rasmussen. "Increasing urbanisation has kept skies in the towns and cities artificially light, so few people have experienced the magic of the Milky Way crossing a star-studded sky. We have lost our connection with nature on so many levels. It is time to pause and reconnect – looking up at the stars is a wonderful way to regain perspective."