News
Super dupe! The beautiful game is coming back
---
This article is more than 3 years old.
Football returns to Denmark on May 28 as the 3F Superliga finally kicks off again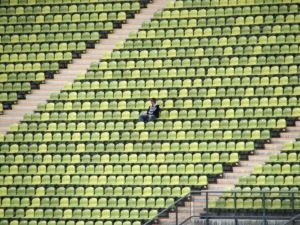 Put your hand up if you watched the Tajik Super Cup final. How about a riveting match from Belarus. Go on FC Slutsk!
Yeah, it's been a desperate few weeks for fans looking to watch a bit of football during this Coronavirus Crisis.
But some good news emerged today as it was revealed that the Danish Superliga will kick off once again on May 28 when AGF Aarhus and Randers FC face off at Ceres Park. 
The postponed season is expected to be completed by July 29 and although fans will be unable to attend games for now, there promises to be a lot of football played in the coming weeks.
"We are very excited to bring the 3F Superliga to Denmark again. We open with a bang of a derby, before proceeding directly to the most intense period of the league," said Claus Thomsen, the head of the divisional authority, Divisionsforeningen.
READ ALSO: Michael Laudrup voted the emperor of Danish sports
Lions lurking
FC Midtjylland are sitting pretty at the top of the league with a comfortable 12-point cushion down to second-placed FC Copenhagen. 
But the Lions will be able to make up ground if they can finish strong in the champions playoff (they will face FCM twice). 
At the opposite end, Silkeborg, Esbjerg and Hobro will need to scrape some points together in order to avoid relegation. 
The Superliga will see three teams go down this season (one team gets promoted from the league below) as the league reduces its number of teams from 14 to 12 next season.