News
Storm floods could put the Metro out of service for a long time
---
This article is more than 3 years old.
Meanwhile, the long-postponed network improvements on the M3 and M4 lines will be further delayed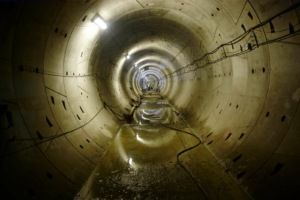 Experts warn the Copenhagen Metro could be taken out of action for up to two years should a storm flood strike the subway's control centre from the south.
The consultancy firm COWI and the Technical University of Denmark (DTU) are among those warning that the Vestamager control room is extremely vulnerable to excess water.
The news comes despite the authorities claiming that the new Ullerup dike, completed in 2019, would reduce such a risk.
READ ALSO: Flooding in Denmark becoming the norm
Bearing the brunt
COWI contends that the dike will not be able to protect the control room in its report 'Investigation on storm surge and seawater rise', which it sent to the Capital Region.
DTU professor Karsten Arnbjerg-Nielsen is concerned the subway's command centre will bear the brunt of a flood.
"The COWI report and other analyses show that, at a time when only minor vital service functions such as the business package area and police offices at the airport are affected, the subway's command centre and workshops will be submerged," Arnbjerg-Nielsen told Ingeniøren newspaper.
The area near the Metroselskabet headquarters endured similar issues in 2016 when the canals by Ørestads Boulevard overflowed their banks.
Metroselskabet is aware of the problem and has launched an inquiry.
READ ALSO: Copenhagen's flood-prevention tunnel costs soar
Another delay
In related news, Metroselskabet has announced that the full network connection due be installed in the new metro lines M3 and M4 will be postponed until the autumn.
Initially, the cables should have been ready in February 2018, which was then eventually postponed until March 2020.
The installations will be partially completed on the M4 line between Orientkaj and Sortedams Sø Lake in Østerbro this summer.