News
Local Round-Up: City Hall declares war on street-view balconies
---
This article is more than 3 years old.
Elsewhere, jet-skis and areas prone to getting too crowded remain in Copenhagen Municipality's firing line too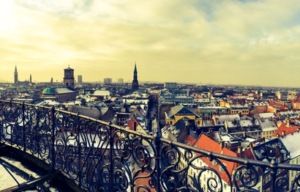 A City Hall majority is in favour of introducing legislation that will make it much harder for housing associations to build balconies overlooking streets.
It is argued that having a random number of balconies is not a good look, and that balconies can often cause conflict among residents – among other concerns. Balconies overlooking courtyards are more preferred.
The truth about balconies
A recent Bolius survey revealed that 69 percent of Copenhageners like using their balconies to relax.
They eat (51.0), grow vegetables (50.7), dry laundry (48.8) and barbecue food (25.0). Just 3.9 percent confess to not using their balcony.
---
Sorry Freddie! No Royal Run this year
There will be no Royal Run this year. Originally scheduled to take place in Copenhagen and other cities in early June, it was postponed until September. However, now the Dansk Idrætsforbund sports association has ruled it will be neither realistic nor justifiable to hold the event. The 70,000 people signed up for the event will now have to wait until May 24 next year – or otherwise refunds are available until September 8. It will take place in Copenhagen, Sønderborg (sold out), Aalborg, Odense and Rønne, while Nuuk will hold an edition on May 17.
Grow your own veg and meet the neighbours
Residents in the Amager neighbourhood of Ørestad Syd will be able to grow vegetables on a 6,000 sqm site earmarked for construction work near Hannemann's Allé – a temporary measure orchestrated by contractor By & Havn. It reasons that temporary urban spaces on sites awaiting transformation can generate community spirit. "We would very much like to work on beautifying some of the building sites that, for various reasons, have not yet been built," it explained to byoghavn.dk. "We hope that the temporary urban spaces and activities will encourage inter-mingling between Ørestad's residents and be a start of activities that can subsequently live on in permanent urban spaces and in the district."
War on jet-skis continues with most boat owners caught in the crossfire
It won't be possible for boat-owners to take their vessels northwards beyond Slusen in Sydhavn this summer, thus barring them from entry to Copenhagen Harbour. Only very small boats and canoes will be permitted to pass. Of particular concern to the authorities are jet-ski operators, who in the summer of 2017 were responsible for the deaths of two American students in the harbour after accessing the waters via Slusen. Jet-skis are banned in the harbour. Last year an operator accessed the harbour, despite similar measures in force at Slusen. The authorities were alerted and the jet-skier was quickly apprehended. 
Cocks and Cows embrace streetfood concept
The burger chain Cocks and Cows has launched 'Cocks and Cows Streetfood Pop-up – for safety and pleasure' in a bid to encourage its customers to consume its food outside, thus raising the number it can serve amid the strict coronavirus restrictions. Co-founder Lasse Wiwe tells kbhliv.dk that the chain's 'on-the-go' focus is a logical response to a "changed gastronomic reality", and that in the long term it could become an integral part of the company's business.
Public meeting regarding new Østerbro tunnel takes online option
From tomorrow, several shorts films on the website of the road authority Vejdirektoratet will reveal plans for a new 1.4 km tunnel passing from  Nordhavnsvej on Østerbro to Kattegatvej in Nordhavn digitally. Normally the plans would have been revealed at a public meeting. From Friday, members of the public will have two weeks in which to ask questions.
Over-crowded areas marked in pink
Copenhagen Municipality is marking out areas that it feels are the most vulnerable to being over-populated. Pink-coloured ground markings in areas such as Nyhavn, Nytorv, Gammelstrand, Strøget and Blågårdsgade will remind visitors to keep their distance from one another.