News
Sports Round-Up: Hummel back in the Premier League with Everton
---
This article is more than 3 years old.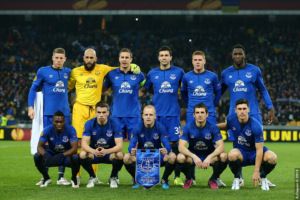 Danish clothing brand Hummel will be returning to the Premier League as a sponsor for the first time in 14 years with the football club Everton.
The Toffees have touted the three-year agreement with the sportswear brand as a 'record deal', but did not disclose the financial terms of the partnership.
Hummel was last part of the Premier League as a clothing sponsor in the 2006-07 season with Aston Villa.
---
Superliga and First Division coronavirus tests negative
The mass coronavirus testing of all referees, players and club staff in 3F Superliga and the  First Division have been underway in recent weeks ahead of the restarts of their respective seasons this week following postponements due to the Coronavirus Crisis. Some 693 tests were conducted last week and 1,019 this week – all turning up negative. The Superliga will resume on May 28 with AGF hosting Randers, while the First Division will resume on May 29 when Viborg hosts Skive.
Dolberg player of the year in Nice
French club OGC Nice has named Danish national Kasper Dolberg as its player of the year. The award, which was announced early due to the coronavirus outbreak, went to the player who garnered the most online votes among fans. In OGC Nice's shortened season, Dolberg netted 11 goals in 23 league matches.
Yussuf Poulsen builds on RB Leipzig record
Danish national Yussuf Poulsen has reached an RB Leipzig milestone as its only player to reach 250 matches in its somewhat brief history. The Leipzig captain wrote on Twitter that he is very proud of the achievement and honoured to play for the club since joining them in 2013 from Lygnby. Though Poulsen scored a goal and Leipzig beat Mainz 5-0 in his 250th game, it was bitter-sweet as he  injured an ankle ligament and will miss at least part of the remainder of the season. In his time there he has scored a total of 63 goals.
Ajax closes in on Danish youth player
Ajax is on the verge of snapping up Danish player Eskild Munk Dall from Silkeborg IF in a deal worth between 3 and 5 million kroner, reports Ekstra Bladet. The 17-year-old signed a three-year extension with Silkeborg last December but has trained with major teams Ajax and Valencia in the past. Dall has not played for Silkeborg's first team, but has performed well for their under-17 and under-19 squads.
Danmark Rundt boss done
Long-time Danmark Rundt race director Jesper Worre has been dismissed from his post after 23 years in the job. His contract agreement was from 2017-2020 and it has now expired without renewal. Worre was instrumental in planning the 2020 edition of the race, which is Denmark's biggest annual sporting event, before it was cancelled due to the Coronavirus Crisis – making 2019 his last event as chief organiser.
Dansk Boldspil-Union (DBU) hires two assistants
Dansk Boldspil-Union (DBU) has hired two former national team players, Thomas Kahlenberg and Thomas Helveg, as assistants for the under-16 and 19 national teams respectively. DBU talent development manager Flemming Berg expressed excitement about the hires, saying they will bring a wealth of experience and "silent knowledge" to the team's players.