News
Thousands march in Copenhagen in protest against George Floyd's death
---
This article is more than 3 years old.
Crowds gathered outside US Embassy in Østerbro before walking to Christiansborg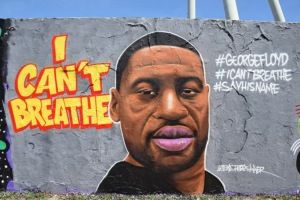 About 2,000 people came out onto the streets of Copenhagen on Sunday in solidarity with global protests against the death of George Floyd, the African-American man killed in US police custody on May 25.
Protesters gathered outside the US Embassy in Østerbro at around 14:00 and then marched to Christiansborg, chanting: "No justice, no peace. Prosecute the police."
They also carried signs saying "Black Lives Matter" in reference to the US movement against police violence and racism against African-Americans.
Violent and unethical
"I think it's unfair that people around the world are treated so poorly regardless of their skin colour. There is also racism in Denmark. We are citizens of the world, after all, so this is important to mark. I think what happened is violent and unethical," Lea Rejmers told DR as she joined the protest.
Floyd, an unarmed black man, died on May 25 in Minneapolis after a white police officer knelt on his neck for almost nine minutes, despite him repeatedly saying "I can't breathe" before losing consciousness.
His death has sparked protests across the US and in various world capitals such as London and Berlin.
Trump's threat
US President Donald Trump has threatened to send in the military to quell growing civil unrest following Floyd's death, which has included widespread looting and violence in many American cities and states.
In Copenhagen, police chief Henrik Svejstrup said the demonstration was peaceful.
Protester Anita Mac said she was dismayed at the events in the US.
"I am deeply appalled that something like this can happen. It affects us all. We have people from all countries here so it's a question of solidarity," she told DR.