News
Coronavirus fears raised as thousands gather in super-spreader BLM protest crowds across Denmark
---
This article is more than 3 years old.
With another march planned for Sunday in Copenhagen, the people of Aarhus and Odense have also been keen to condemn racism – not just in the US but also in Denmark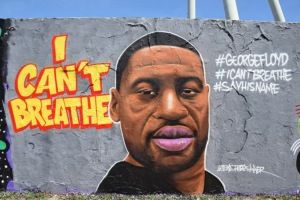 Amid fears they might be spreading the coronavirus, thousands of people marched and knelt in silence on Wednesday as the Danish cities of Aarhus and Odense joined the global protests demanding racial justice in solidarity with the Black Lives Matter movement.
The May 25 killing of African-American man George Floyd in US police custody has ignited a global wave of protests and anger – at exactly the time when most governments are discouraging large gatherings of people.
However, in Denmark the police are powerless to stop protests as it is the Danish people's right to stage political protests, according to the constitution.
Another capital protest on Sunday
In Denmark, 2,000 gathered in Copenhagen over the weekend and another demonstration is planned in the city this Sunday. The I Cant Breathe DEMO will begin again at 14:00 outside the US Embassy in Østerbro and continue for two hours.
Meanwhile, outside the capital, 2,500 people turned up in front of Aarhus City Hall yesterday and marched through the centre, while another 700 joined the Odense protest, police said. Aarhus and Odense are Denmark's second and third largest cities respectively.
'Refugees welcome here'
Through song, poetry and chanting, protesters of all colour in the two cities condemned police brutality against African-Americans but also turned the spotlight on racism in Denmark.
"I have experienced racism in school, and also being followed with my sister in the supermarket," Celina Ngozi Hansen Uchenwa, a high school student in Odense who moved from Nigeria, told DR.
In Aarhus, people sang: "Say it loud. Say it clear. Refugees are welcome here." They also chanted: "I believe that love will win."
"When we demonstrate, we show that we stand with them in the United States, and it is not only in the United States that one experiences racism. It's all over the world – even if you don't quite notice it," Zana Veliqi told TV2.
Some protesters in Aarhus wore face masks with "I can't breathe" written on them in reference to Floyd's words as a white police officer knelt on his neck for nearly nine minutes.
Virus risks 
People in Denmark are exercising their right to free expression despite the ban on gatherings of more than ten people to avoid the spread of the coronavirus.
Experts however warned that the demonstrations risk becoming so-called super-spreading events.
"From an infection point of view only, there is clearly and increased risk of transmission when many people are together, and maybe even singing, screaming etc (increased secretion of micro vesicles, potentially containing viruses)," Søren Riis Paludan, a professor at Aarhus University's Department of Biomedicine, told CPH POST.
However, Paludan is personally in favour of the protests.
"I think it is great that protest like these take place, and the world has other problems than corona, so I certainly do not think that there should be restrictions," he added.