News
Culture Round-Up: Danish queen's great-grandpa's homosexual cradle-snatching to get the movie treatment
---
This article is more than 3 years old.
The controversy continues with the release of a Danish version of a French book about a paedophile who preyed on a 13-year-old, along with reports of a singer who was miffed that 'X Factor' stole her song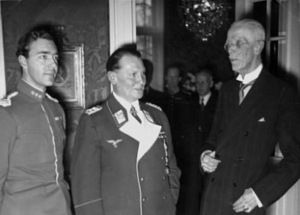 Swedish national broadcaster SVT has announced plans to make a TV series about a homosexual relationship involving King Gustaf V (1907-1950), the great-grandfather of Queen Margrethe II who lived to the ripe old age of 92.
It is long supposed that Gustaf, who was the grandfather of her mother Ingrid, enjoyed a more than a close friendship with restaurateur Kurt Haijby despite their 36-year age gap.
Margrethe used to sit on his arthritic knee
Margrethe knew Gustaf reasonably well as he did not die until she was ten years old, thus outliving her own grandfather.
Haijby will be played by Sverrir Gudnason, who starred as Björn Borg in 'Borg vs McEnroe'.  
---
Skates on: London-based Danish florist lands Netflix presenting role
Stardom beckons for award-winning Danish florist Yan Skates, 52, who has landed a main presenting role in the new Netflix gardening show 'The Big Flower Fight'. Skates, who moved to London in 1992 and has been a florist since 2000, is co-fronting a show challenging aspiring florists in a similar vein to 'Project Catwalk'. His co-presenter is Henck Röling, a Dutchman, who he successfully auditioned with to present the show.
Paedophilia book gets Danish release
On May 29, a book that has caused considerable controversy since its release in French in January, Vanessa Springora's 'The Consent', was published in Danish. It details the sexual relationship between a 50-year-old author and a girl under the age of 16. Springora, 48, based the book on her own experience with Gabriel Matzneff. She was 13 when she first became involved in him. Matzneff, 83, has described the book as a "hostile, malicious and degrading work".
Actor with Balkan roots tells how he was inspired by Zlatan Ibrahimovic
Danish 29-year-old actor Besir Zeciri has told DR how Zlatan Ibrahimovic helped him to achieve success in his profession. Zeciri, who also has Balkan roots, credits the football player's autobiography with turning his life around. "I bought Zlatan's book and it was so insane: it lifted me," he said. "If he can overcome so many challenges and become such a big star of the world, so can I." Zeciri recently won acclaim for his role in the Danish gangster thriller 'Kød & Blod' starring Sidse Babett Knudsen.
Amazon precedent worries bookstore supremo
Bo Dybkær, the head of the Danish bookstore association, has warned that a deal struck by Danish publisher Gyldendal with Book Depository could set a dangerous precedent, as it is owned by Amazon. Dybkær warns that the company is becoming increasingly dominant when it comes to selling books, DVDs and all manner of other products to the extent it is making demands from publishers regarding the content of the books it sells. "Amazon sets out to be dominant in all the markets and product segments in which it operates," he told DR radio. "They will also follow this strategy when they enter the Danish or Nordic market in the foreseeable future." In April, one of the country's biggest bookshop chains, Arnold Busck, went bust, bringing an end to a company launched in 1896. It had 29 stores across the country. 
Singer angry at 'X Factor' for 'stealing' her song
The Danish music act CH10 is angry as she alleges that the TV2 show 'X Factor' presented her song as the first release of the program's runner-up, Mathilde Caffey, without consulting her. CH10, whose real name is Chio Dyrlund, wanted her song, 'Karma is a Bitch', to launch her career, and she initially told DR that its inclusion in the program was "a real pat on the back". But she was left with a bitter taste in the mouth when "it was presented as if Mathilde Caffey had written this song with her producer". Caffey's song has been released by the Sony Music label. Musician rights organisation Koda has confirmed that Sony Music has done nothing illegal – after all, CH1O will still get the royalties. 
Two Danish films competing at Cannes
Two Danish films will be competing in the 2020 Cannes Film Festival this year: Thomas Vinterberg's drama 'Druk' ('Another Round') and Danish-French filmmaker Jonas Poher Rasmussen's animated documentary 'Flee'. Produced by Zentropa, 'Druk' stars Mads Mikkelsen as an alcoholic teacher who believes drinking unlocks creativity. It will be released in Denmark on 24 September. 'Flee' is about a refugee from Afghanistan, who since his arrival in Denmark two decades ago has been concealing his homosexuality from his family back home.