News
Local Round-Up: Thousands opposed to demolition of Palads Cinema
---
This article is more than 3 years old.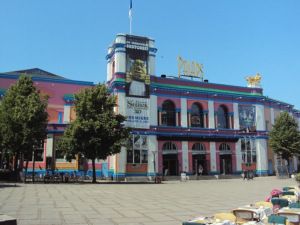 Plans to demolish the colourful building of Palads Cinema at Axeltorv have been met with a critical response as 6,600 opponents have signed a petition against it.
Public outcry has already been expressed before, but a new proposal made by Nordisk Film and the studio BIG has sparked the debate again.
High maintenance costs
The plan is to replace the Palads Cinema with a multi-level office building with roof terraces. Apparently, the maintenance expenses are hard to cover through the cinema's revenue.
However, opponents of the plans contend that 102-year-old Poul Gerne's colourful building is a city's icon worth keeping regardless of financial concerns.
---
Trains to start crossing Øresund again
As expected, trains have started running across the Øresund Bridge every 20 minutes as a part of the Phase 3 of reopenings that began in Denmark this week. Travellers from the north do not need to change trains at Malmö any longer as the routes run all the way to Copenhagen, confirmed Swedish rail operator Skånetrafiken. However, in both Denmark and Sweden passengers still require a reservation. 
Life sentence for murderer of two elderly people in Østerbro
James Schmidt, a 28-year-old Sudanese-born Danish man from Hellerup whose Facebook profile describes him as a music manager, has been sentence to life in prison for murdering two elderly people, aged 80 and 81, in Østerbro in March last year. Schmidt, who moved to Denmark from Sudan when he was seven years old, was cleared of a third similar crime. The judges gave him life due to Schmidt's previous criminal record – he had already served a lengthy sentence after a rape and murder charge – and what were described as "psychopathic traits" by the Legal Council.
New festival to bond Østerbro and Nordhavn
The recently announced OPEN Festival, which will aim to bring together artists, institutions and companies from the Copenhagen city districts of Østerbro and Nordhavn, will take place from September 11-13. Work on the final program is still ongoing, although some parts of it – such as pop-art salons, poetry readings and sensory gardens – are already confirmed. 
Tårnby Municipality opens a job centre at Copenhagen Airport
Tårnby Municipality, SAS and Copenhagen Airports have agreed to open a counselling and job centre at the airport, reports KøbenhavnLIV.  The main focus of the centre, which will be run in accordance with Covid-19 regulations regarding hygiene and social distancing, will be to help employees of companies from in and around the airport whose employment has been disrupted by the virus.
Aarhusgade is finally open
The reopening of Aarhusgade makes it easier to get across Østerbro to Nordhavn. It was closed in 2013, causing great frustration to the citizens of Vordingborggade, along with heavy traffic jams, as that road was the only way to get to Nordhavn.
Panda escapes from enclosure at Copenhagen Zoo
One of Copenhagen Zoo's pandas broke out of its enclosure on Monday morning by crawling up a metal pole and creeping under an electric wire. Luckily, a zookeeper noticed it and was able to stun the animal with a special dart. The panda was not harmed during its return to its enclosure.