News
Apps and teddy bears used to enforce Tivoli coronavirus guidelines
---
This article is more than 3 years old.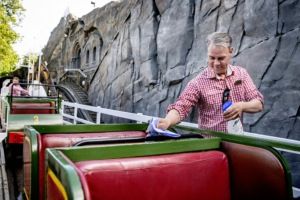 An old dog can learn new tricks after all – or in this case an old amusement park.
The 177-year-old Tivoli Gardens has proven it's on the cutting edge by introducing the world's first coronavirus amusement park feature in an app.
Other clever measures have also been adopted to comply with coronavirus health guidelines in its grand reopening on June 8 since the park's closure in March.
READ ALSO: Tivoli confirms plans to open on Monday June 8
Virtual queuing
Nearly everything that can be moved online has been, from buying entry passes, to ordering lunch ahead of time, to joining virtual queues for the park's 32 rides so as to avoid large gatherings of park goers.
Those in the virtual queue are notified when they are up next and must then tap their phones on a check-in panel before boarding the ride where they will likely be greeted by Tivoli staff donning decorated protective face shields.
Meanwhile giant teddy bears enforce social distancing on rides by occupying every other row or seat on the ride.
App is likely to stay
The app feature was developed by a team of 20 people over three days and will probably continue to be used after the coronavirus restrictions are lifted.
Other measures include occupancy limits in restaurants, by food stands and in other 'hot spots' where crowds tend to gather in the park.
Tivoli normally limits its capacity to 34,000 people, but under current restrictions it is down to 8,200.
Leading up to Tivoli's reopening to the public, the park allowed only Copenhagen's kindergartners use of the space for free during the daytime.