News
Denmark stepping up military presence in the Middle East
---
This article is more than 3 years old.
New defence initiatives in Iraq and the Strait of Hormuz approved by Parliament this week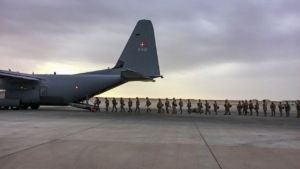 A broad majority of Parliament agreed on Thursday to dispatch new military contributions to the fight against Islamic State (IS) in Iraq and to maintain maritime security in the Strait of Hormuz.
Parliament gave the green light for Denmark assuming the leadership reins of NATO's training mission in Iraq from December 2020 and 18 months looking forward.
Furthermore, the Danes will also deploy a frigate and maritime unit to the Strait of Hormuz for four months, beginning in August, as part of the European-led EMASOH mission.
READ ALSO: Danish defence spending still inadequate, chides US ambassador
Almost 500 being deployed
The contribution in Iraq will consist of up to 285 military personnel spread across and security and escort unit, three EH101 transport helicopter units and other staff.
In the Strait of Hormuz, a frigate with accompanying Seahawk helicopter will be dispatched as well as maritime special forces. About 195 military personnel will be deployed.
"Today, Denmark has underlined that we are prepared to show international leadership in the fight for a more safe and stable world," said the foreign minister, Jeppe Kofod.
"We are a country you can count on – also during challenging times."