News
English-language skills a focus for CIS summer students
---
This article is more than 3 years old.
A choice of four programs for children aged 4-17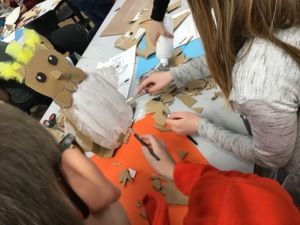 It's hard to work out what realisation came first: what kind of hell is American Summer Camp, and how exactly long are the summer holidays in the US?
No … not Summer Camp!
The answers were revealed in a number of films.
Perhaps the initial warning shots were fired in 'Stand By Me' in which four pre-teen boys walk down a railtrack for three days on their own. Given that the adult narrator always sounds so dreamy, the only logical conclusion is that their parents must be permanently absent because they're high on drugs.
And then in other teenage films, the threat of 'Summer Camp' hangs over their existence like a neverending Bay of Pigs episode. It's like 'The Breakfast Club' detention, but multiplied by 25.
What? Three months?
It's only as you get older that you realise that summer camp is like winning the lottery for American adults who spend so much of their lives up to their eyeballs in work that they simply don't have the resources to look after their kids.
And your sympathy levels for American children plummet when you realise they get three full months of summer holiday – so scratch that about the parents being stoners, for most overworked Americans their childhood memories take on a dream-like state.
More like dolphin schools
In Denmark, the kids get just six weeks, which renders the idea of sending them to the middle of nowhere for weeks on end – and as a punishment – somewhat barbaric.
But like in the US, the parents have got to work (normally for half of the holiday) – and unlike in the 1950s, a far greater proportion of families have two breadwinners.
So there is a great need for some sort of organised school – more like the dolphin kind, with more fun, longer breaks and fewer rules – where children can gather to spend the days that their parents need to work.
CIS's school is in English
The public schools provide such a service, of course, which normally involves activities held at their premises, the after-school clubs and sports centres in the neighbourhood. But most will be in Danish.
That leaves international schools as the main providers of English-language summer schools, and there are close to ten offering their services this summer break – in both the capital region and further afield.
Top of the class is Copenhagen International School (CIS), which has a wide variety of camps on its summer school program this year, offering a great opportunity for children to learn and improve their English.
Additionally, they will learn new skills, make new friends, and are sure to stay active in a safe, positive, and creative environment.
Their summer school program is taught in English and is open to all children. This includes children visiting Denmark and the Copenhagen area, as well as students from other schools who may not be exposed to lessons taught in English as often.
Camp combo options
Students can engage in learning, exploration, and adventure at any one of CIS's summer camps: art camp (ages 8-12), activity camp (4-7), digital camp (8-12), and English camp (8-12 or 12-17).
All four camps are available over the first two weeks of the summer break. Parents/students can choose between Week 1 (June 22-26), Week 2 (June 29-July 3), or both.
Art attack
"All age levels within primary school love building things," says Fiona, who is a teacher at the art camp.
"I have never come across a child who hasn't been really engaged when we built something Picasso-inspired, like cubism – they are just cutting and gluing away! Clay is another great medium."
Aside from clay, young artists in the art camp also work with water colours, sketching, charcoal, pastels and more.
Digital diligence
In the digital camp, children explore the fundamentals of computer programming and can channel their creativity by making and designing computer games.
Students enrolled in the English camp sing songs, watch and discuss movies, cook, and even create their own stories to illustrate and share with the class.
Activities with Andrea
And for the younger crowd, there is the activity camp with Andrea, where children can enjoy music, play educational games and work on hands-on projects like arts and crafts and gardening.
"Last year we had different teacher-led activities that we rotated: like face-painting or making play dough," says Andrea. At least once a week the activity camp get to go on a field trip.
"The kids were really happy, and the parents too. Danish parents are particularly excited that their kids get exposure to English."
Few would disagree that the CIS summer program is a unique opportunity for children to learn new skills while also developing their English-speaking ability in the company of experienced EAL (English as an Additional Language) teachers.