News
Local Round-Up: Olsen Gang prison to become a residential area
---
This article is more than 3 years old.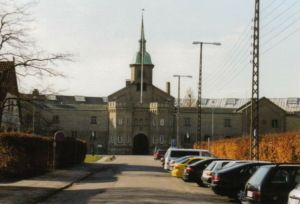 Five teams of designers and architects have been appointed to share their vision on how the area of Vridsløselille Prison in the Greater Copenhagen suburb of Albertslund can be transformed into a residential area, TV2 reports.
The prison is perhaps best known for its iconic gate, as it appeared in some of the Olsen Gang films. 
Iconic gate to remain
According to Albertslund Municipality, the prison area will be transformed into a residential one that will include houses, offices and public institutions, including crèches and kindergartens.
The famous gate and the prison church will be incorporated into the design. Sustainability will play a key role in the whole reconstruction process. 
Mayor keen to see vision realised
"I am looking forward to it and I am sure it will be of great importance to Albertslund," the mayor of Albertslund, Steen Christensen, told TV2.
"The prison has a central physical location in the town and it is of central importance to the town's history."  
Christensen would also like the neighbourhood designed with a future light rail system in mind. 
---
More bathing options planned for Copenhagen
The government has allocated 1.4 million kroner to a further expansion of the capital's bathing zones this summer. A new area will be opened at the La Banchina restaurant on Refshaleøen, while existing bathing areas, such as Sandkaj in Nordhavn and Sdr Refshale Basin on Refshaleøen, will be expanded. There is no word on when the public will be able to use the areas.
Frederiksberg Town Hall carpark plans could be scrapped
The public will be consulted regarding plans to build a new underground carpark behind Frederiksberg Town Hall, as opponents to the plans believe a green solution is needed. The plans for the carpark, with enough room for 276 places have been on the drawing board for five years.  A citizen consultation will take place over the summer, with a decision expected ahead of the autumn budget negotiations.
Fewer homes for sale in Copenhagen
The number of houses for sale in Copenhagen has fallen significantly in the last year. At the beginning of June, there were only 380 villas and townhouses listed, which is 25 percent less than a year ago. 
Copenhagen parents will have to pay more for a kindergarten place
Daycare rates for infants are expected to rise in the capital, meaning that parents of children aged three and under will have to pay as much as 1,300 kroner more a month. Currently, the standard rate for a vuggestue is 1,783 kroner, so it is a significant rise. With municipalities across Denmark keen to increase the ratio of daycare worker to infant, the rise is presumably thought necessary. 
The metro runs around the clock again
The Copenhagen Metro is back to operating 24/7 after a long time of shutting down at midnight. The authorities continue to encourage citizens to keep following all the recommendations on hygiene and social distancing.
Amager Hospital to resume accepting COVID-19 patients again
Amager Hospital is now accepting patients with COVID-19 as the special coronavirus section at Hvidovre Hospital has been closed. Since March, patients infected with COVID-19 from the Amager Hospital's admission area have been treated in the special section at Hvidovre Hospital. Now, way fewer people are getting infected with the coronavirus, and therefore Amager Hospital has resumed treating patients with COVID-19.