News
Danish News Round-Up: Energy consumption falls for first time in five years
---
This article is more than 3 years old.
An increase in wind power led to a decline in national energy consumption. But Denmark is not doing as well as expected in pig welfare, a study reveals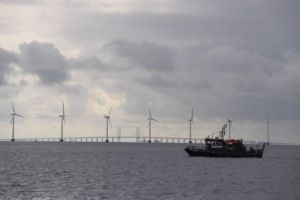 With the country evermore shifting toward more efficient power sources, energy consumption in Denmark fell for the first time in five years in 2019, according to annual data from Danmarks Statistik.
National energy consumption fell by 1.3 percent in 2019. An increase in wind power contributed to the decline along with a decrease in coal consumption. This meant that less energy from power plants was used.
Business group Dansk Industri welcomed the news, saying it showed economic growth and green energy can go hand-in-hand.
Households leading
Households were the main driver of the decline as their consumption fell by 3 percent, followed by companies, which used 0.8 percent less energy.
This follows a trend over the past three years during which households lowered their energy consumption by 11.3 percent. Companies, on the other hand, saw a 2.5 percent fall in their energy consumption in the same period.
"Denmark is on many fronts a pioneer in green energy," said Troels Ranis, the industry head of DI Energy, an association of energy companies.
---
Government gets mandate for EU budget
The government is expected to get a mandate for EU budget negotiations with support from all the political parties except Venstre. Prime Minister Mette Frederiksen needs a mandate from Parliament before a debate on the EU's new seven-year budget to be negotiated at a summit this week. The Ministry of Finance said Denmark's contribution to the EU budget will increase by an average of 6.7 billion kroner per year partly due to Brexit. Venstre leader Jakob Ellemann-Jensen has pressed the government to explain where the additional money will come from.
Hotels, holiday homes to be used for corona isolation
Hotels and holiday homes will soon be used to isolate people infected with the coronavirus. The National Board of Health said municipalities will offer a voluntary stay in these facilities for people who cannot self-isolate at home because they live in a small area or with persons with a high risk of developing serious effects of COVID-19. The municipalities are responsible for establishing the facilities in agreement with hotels and holiday centres. They will also decide who are eligible for a stay.
Danish pig welfare lags behind other countries – study
Denmark is known for its cutlets and minced pork but a new study shows it is not bringing home the bacon in pig welfare. The study by researchers at the University of Copenhagen reveals that Denmark lags behind Sweden, the UK and the Netherlands, although it has similar standards to Germany. The research assessed the five countries' pork production industries, along with their legislation, as well as what producers and consumers do for animal welfare. The findings show there is room for improvement in Danish legislation on pig production – particularly concerning the way they are slaughtered. Consumers can also check labels on products and buy those with more hearts, which indicate better animal welfare.