News
Sports Round-Up: Three football matches to have trial run with fans
---
This article is more than 3 years old.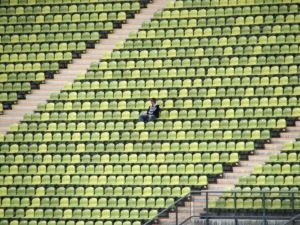 Though football is back with Superliga in play, there has been one notable element of the game missing – the noisy spectators in the stands.
It could now be the beginning of the end for empty rafters at games, however, as the government has announced it will allow trials of 500 people present for three Superliga football matches.
Six lucky groups of fans
The national police and health authorities will select three matches from the 29th round of the Superliga between June 20 and 22 based on stadium conditions. In collaboration with Divisionsforeningen, the authorities will prepare health and safety protocols to comply with coronavirus guidelines.
It is hoped that evaluations of trial matches will help improve health plans and to promote social distancing going forward in order to allow for greater attendances at future matches.
---
AaB hangs on to secure their place in the final
AaB saw off a spirited rally from AGF on June 10 to win 3-2 and advance to the Danish Cup Final. Two late goals from AGF could not deny them. AaB will face SonderjyskE in the final on July 1.
Manchester United coach has exceeded my expectations, says Schmeichel
Peter Schmeichel, the former Manchester United and Danish national team keeper, has lent his support to his former team-mate Ole Gunnar Solskjær, the current manager at Old Trafford. Despite the team's currently sitting in fifth place, which would again deny them a place in the Champions League, some 37 points behind bitter rivals Liverpool, Schmeichel told CNN that the Norwegian had far exceeded his expectations in such a short amount of time. Solskjær took over as permanent manager of the club in March 2019.
Robert Skov among world's most valuable defenders
Danish footballer Robert Skov has been rated one of the 20 most valuable defenders in the world, according to the research group CIES Football Observatory. When Skov left FC Copenhagen to join Bundesliga outfit Hoffenheim last summer, his value sat at around 75 million kroner, but it has since skyrocketed. CIES FO now estimates the 24-year-old's worth to be nearly 350 million kroner – making him the second most valuable Dane on the list behind Christian Eriksen, who is valued at 495 million kroner.
Scam footballer charged with fraud again
Bernio Verhagen, the scam footballer who Superliga club Viborg FF signed after the 26-year-old fraudulently posed as his own agent but then fired in November 2019, is in the news again after duping yet another European club. Like with the Viborg incident, in which the Dutchman posed as a representative of a major sports agency through phone calls, documents and emails, he has been charged with fraud and forgery. The career criminal has a charge sheet that also allegedly includes rape, robbery and fleeing from the police. It is alleged he defrauded four clubs in 2019.
Mads Davidsen lands new top job
Mads Davidsen has reached an agreement with UAE Arabian Gulf League team Al Jazira Club to become its director of football. The club is owned by Manchester City owner Sheik Mansour and is one of the largest in the Middle East. The 37-year-old Dane will be responsible for the club's football development and strategy from the first team down to its academy.