News
Culture Round-Up: 'Superspreder' and 'rambutan' enter Danish Dictionary
---
This article is more than 3 years old.
The Danish Dictionary gets an update with entries on pandemic vocabulary and gastronomic finds. Meanwhile, people in Denmark are ditching leaky tents to go glamping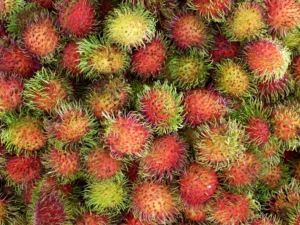 Coronavirus coinages and pandemic-inspired words  have left a lingering taste in Danes' mouths with the addition of 634 new words in the Danish Dictionary.
Words like 'flokimmunitet' (herd immunity) and 'superspreder' (superspreader) are just some of the new entries that will be available from Friday on ordnet.dk following an update of the Danish Dictionary, according to Det Danske Sprog- og Litteraturselskab.
The virus that upended Danish society also spawned 'infektionsrate' (infection rate), 'pandemisk' (pandemic) and 'forsamlingsforbud' (assembly ban).
Faraway kitchens
Turning to less gloomy vocabulary, words from distant kitchens also figure in the update with words such as 'rambutan' (tropical fruit), 'focaccia' and 'chilimayo'.
Closer to home, new entries include 'friskpillet' (freshly-peeled) and 'kernerugbrød' (kernel rye bread).
Ordnet.dk includes the Danish Dictionary and has 130,000 daily visitors. It is one of Denmark's most visited cultural websites.
---
32 artists to perform in Roskilde Festival 2021
Fans disappointed with the cancellation of the 2020 Roskilde Festival can start looking forward to next year's edition following the release of a list of 32 artists who will be performing. The list still includes US rapper Tyler, the Creator and British artist FKA Twigs. Of the 32 names published on Tuesday, the new ones include Norwegian black metal band Mayhem and British electronic musician Floating Points. Organisers say there will inevitably be changes as the festival will cover two years of music development. They plan to add new music relevant to current events.
Glamping is the thing: Bookings up for luxury camping
High-pitched safari tents with beds and duvets are replacing the leaky canvas as 'glamping', glamorous camping, gains ground in Denmark. The campsite in Gilleleje in North Zealand is almost fully booked for the summer with people in Denmark taking to the idea of being close to nature but with as much luxury as possible. A glamping holiday typically involves electricity, a private toilet, a bed and breakfast in bed. Campsite owners say the market for such holidays are highly-educated clients aged 28-40 who live in the big cities.
Theatres, conservatories join green movement
Denmark's theatres, music conservatories, libraries and museums have a role to play in climate action and the government is giving them 6 million kroner to do so. The minister of culture, Joy Mogensen, said that the funds for state cultural institutions will be used for energy-saving solutions such as solar cells on the roof of Det Kgl Library and energy-friendly light sources at the Jutland Music Conservatory. The money also goes to the Royal Theater, the National Musuem and the Danish Film School among others.
Seasonal performers may apply for COVID-19 compensation
Producers of performances that had to cancel shows due to the coronavirus may now apply for compensation for lost income. The compensation scheme from the Ministry of Culture covers up to 80 percent of losses shown to be directly related to cancelled, changed or postponed performances resulting due to the Coronavirus Crisis. Producers need to show that they planned performances for more than four weeks and less than six months in the same location in Denmark and offered at least 100 tickets per show. Listings of their shows must have been made public by 6 April 2020. The total compensation package is worth 26 million kroner.
Tivoli Friheden to open Denmark's largest flower festival
A flower mecca awaits guests as Tivoli Friheden in Aarhus promises to open Denmark's largest flower festival in July. Thousands of flowers will grow from the themepark's rides – a sensory experience for guests to see, feel and smell flowers through creative events. These include inspirational gardens, climate talks, green dining and workshops for people of all ages. The park is also opening two new rides called 'Sky' and 'the Cable Car'. Tivoli Friheden said it is taking precautions so that guests can enjoy the flower festival without worrying about coronavirus infections.