News
Free ferry to islands for pedestrians and cyclists under proposal
---
This article is more than 3 years old.
Proposal is meant to save the bleeding tourism industry, but MP questions whether it will save any jobs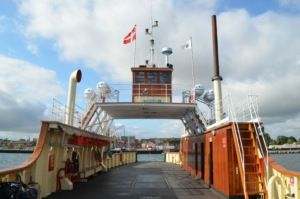 Pedestrians and cyclists planning to travel to Danish islands in July may enjoy a free ferry ride if a government proposal gets approval. The proposal is part of initiatives to save a bleeding tourism industry reeling from the Coronavirus Crisis.
Under the so-called summer package, the government proposes to offer free ferry services on 47 sailing routes including Grenaa-Anholt, Marstal-Birkholm and Gudhjem-Christiansø. Parliament will discuss the proposal on Wednesday.
"The idea is that we would like to have more tourism in Denmark over the summer and for people to come to the small islands and support the economies that are more vulnerable there," said the business minister, Simon Kollerup.
Mayors' support
Political parties are putting together a 700-million kroner summer package intended to boost summer activities, cultural life and nature in the country.
In Svendborg on the island of Funen, Mayor Bo Hansen said the free ferry proposal would draw tourists to his municipality.
"I already have a feeling that many people will be vacationing near where they live and that they will also use nature and thus also their bicycle, so I think it will be a really nice initiative," he told DR.
'Plaster on fracture'
Not everyone is enthusiastic about the proposal. Troels Lund Poulsen, the finance spokesperson for Venstre, called it a "patch on an open leg fracture".
"This proposal certainly does not save a lot of jobs which I thought was the purpose of the summer package," Poulsen said.
He added that the government must direct its efforts toward strengthening hotels and restaurants in the country – particularly in Copenhagen.