News
Nine out of ten expats love living in Denmark – survey
---
This article is more than 3 years old.
Knowledge of Danish a key factor in their satisfaction and retention, an Oxford Research survey reveals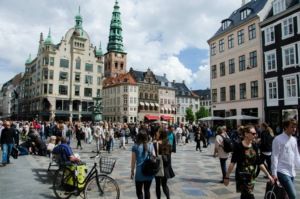 There is no doubt about it: most short-term expats love it here, according to a new study by Oxford Research.
The Expat Study 2020 survey conducted for Danski Industri (DI) revealed that short-term expats "without doubt" enjoy living in Denmark, with 86 percent of those who have been here less than five years agreeing or strongly agreeing with the statement.
This is the same level of satisfaction as the last survey conducted in 2014.
A good work-life balance
"The more it becomes clear that in Denmark you can get good working assignments, a good salary and a reasonable work-life balance, the more it increases companies' advantage in the fierce global competition for talent," said Steen Nielsen, the DI deputy general-secretary.
The work-life balance is cited as the most important factor in expats accepting a job in the country
Satisfied with services
The survey was conducted among 1,954 expats aged 20 and above who have been living in Denmark for a maximum of five years. They answered an online questionnaire from February to March.
Besides the work-life balance, expats also valued their high income as well as Denmark's well-functioning healthcare system, human rights and democracy.
About 84 percent were satisfied with the services from Danish agencies such as their municipalities and SKAT. Similarly, 91 percent were satisfied with the authorities' English skills.
Difficult to socialise
A knowledge of Danish is a key factor for the expats' satisfaction, the survey revealed.
While almost half of expats say Danish knowledge is needed in their work, as many as 9 out of 10 believe it is essential for their social life in Denmark. The survey found that expats, especially those who do not speak Danish, tend to socialise with each other in their spare time instead of with Danes.
"Expats who do not socialise with Danes have a greater tendency to leave the country earlier than planned. Learning to speak Danish may therefore be perceived as important for improving expats' social lives, as well as for keeping them in the country," the survey report concluded.