News
Copenhagen to base new green shipping research centre
---
This article is more than 3 years old.
The future Mærsk Mc-Kinney Møller Center for Zero Carbon Shipping is supported by several giants of the maritime industry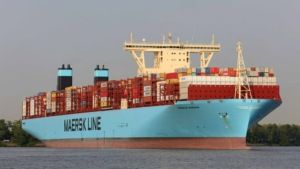 Thanks to a 400 million kroner donation from the AP Møller Foundation, a new research centre geared towards reducing CO2 emissions in the maritime industry is on the way.
With a base in Copenhagen, the Mærsk Mc-Kinney Møller Center for Zero Carbon Shipping will be a non-profit organisation that will work with industry, universities and authorities to reach its goals.
"My father, Mærsk Mc-Kinney Møller, was a visionary leader in the global shipping industry for more than seven decades. He was concerned about shipping's impact on the environment," said Ane Uggla, the chair of AP Møller Foundation.
"Already in the 1980s he championed the use of low sulphur fuel, and he pioneered the first double hull oil tankers in the 1990s to minimise the risk of oil spills. Therefore, I find it very natural that my father's name will be connected to the centre."
READ ALSO: Maersk sets zero-emissions goal for 2050
Cleaning up its act
The centre will work towards supporting the development of sustainable energy technology and assist the establishment of a legal, financial and commercial framework to drive the transformation.
Aside from Maersk, several global giants are participating in the establishment of the new centre, including Cargill, MAN Energy Solutions, Mitsubishi Heavy Industries, NYK Lines and Siemens Energy.
Shipping accounts for about 3 percent of global CO2 emissions. The industry has a target of reducing its carbon footprint significantly by 2050.