News
National Round-Up: You can't hear or see the Roskilde Festival, but you can smell and taste it!
---
This article is more than 3 years old.
Meanwhile, in other news: no parking fines for cars that stop for less than three minutes, and citizens' proposal for tax-paid dentistry gains necessary support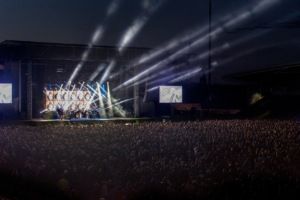 The 50th edition of Roskilde Festival may have been cancelled months ago, but that's not going to stop revellers from getting a taste of the event, courtesy of the food specialists Meyers.
Fresh from feeding cinema-goers with Big Kahuna Burgers at the temporary drive-in facility in Nordhavn throughout the month of May, its boss Claus Meyer, a co-founder of Noma, has had a brainwave.
Roast pork sarnies
Meyers is accordingly switching its attention to its renowned roast pork sandwiches, which it has been serving at Roskilde for the last 10 years, selling 25,000 in the process.
From July 4, they can be delivered directly to the door.
Donations to charity
This year it will offer and deliver a specially-designed Roskilde Box, which will include sandwiches, beverages and cinnamon rolls.
Some 15 percent of the proceeds will go to the festival's nominated charity.
---
SAS to reopen seven more European destinations
SAS will reopen seven more European destinations in July, reports Check-In. The routes that are about to be reopened will bring travellers from Copenhagen to Chania (Crete), Olbia (Sardinia), Venice, Pisa, Pula (Croatia), Thessaloniki and Warsaw. In the meantime, SAS has also increased the frequency of other routes such as flights from Copenhagen to New York, Chicago, Stockholm, Oslo, Malaga and others.
Online commerce frauds appeared to be the most frequent IT crimes
Last year, over a third of all IT-related crimes were e-commerce scams, DR reports. E-commerce fraud takes place when a scammer sells something on the internet – such as mobile phones, computers or clothes – and then, after receiving the money from a potential buyer, simply disappears. This kind of crime has figured in 37 percent of all police reports.
Skagen painter to be celebrated in Paris
The largest to date exhibition of Peter Krøyer's works will open in Paris next year. More than 60 paintings of the Danish artist, who spent several years of his life in Paris, will be presented in the Marmottan Museum. Besides, Denmark and France will initiate a research collaboration on the Danish painter's French past.
No charges for three-minute-parking
Private parking companies are not allowed to charge a fee if a car has spent less than three minutes in a parking lot. This decision stems from the Traffic Act, which stipulates that a car is only considered parked if it stays in the same place for more than three minutes. Otherwise, it is merely stopping.
Citizens' proposal for 'tax-paid dentistry' reaches 50,000 supporters
The petition for 'tax-paid dentistry', which was released on May 29, has already received 50,000 signatures – the necessary number for it to be submitted to Parliament. The citizens' proposal will be discussed at the beginning of the next parliamentary year. Dentistry for under-18s is free in Denmark. For over-18s it is notoriously expensive, and many Danes often go abroad to have significant work carried out.