News
Danish News Round-Up: Six municipalities commit to green transport
---
This article is more than 3 years old.
Cities are setting their own ambitious targets for green transport. Meanwhile, a murder in Bornholm fuels debates about racism in Denmark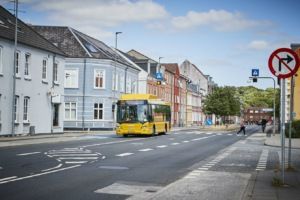 Six of Denmark's largest municipalities have entered into climate co-operation agreements with the government, vowing to ensure green public transport.
The agreements with Copenhagen, Aarhus, Odense, Aalborg, Vejle and Frederiksberg aim for a green conversion of a quarter of the total public bus traffic. As part of the deal, all new city buses must be zero-emission from 2021.
"I am really pleased that the government will look into the possibilities of making zones that are free of noisy and polluting vehicles, as well as looking into the possibility that we as a municipality can help pay for a shore power plant that we have requested," said Copenhagen mayor Frank Jensen.
Charging stations
The municipalities have their own initiatives to abide by the agreements. Frederiksberg, for instance, is vying to be the number one electric city in Denmark by ensuring there is only a maximum of 250 metres between one's home and a charging station.
In Aarhus, the goal is for all new municipal vehicles to be zero emission from 2025. Aalborg meanwhile, is constructing a Plusbus or BRT route to encourage more citizens to take public transportation.
The minister of transport, Benny Engelbrecht, entered into the agreement with the mayors, saying he hopes more municipalities will follow suit.
---
Parliament passes ban on ploughing and fertilising meadows
Conservationists have hailed a victory for birds, butterflies, flowers and insects as Parliament has passed a ban on spraying, ploughing and fertilising protected natural areas. Political parties passed the amendment to the Nature Conservation Act on Thursday, which affects about 37,000 hectares of meadow. The ban comes after green organisations expressed concern about the disappearance of birds and butterflies in the open country. It will take effect in July 2022, giving farmers time to adapt to the new rules.
Government to ensure rejected asylum-seekers return home
The government will ensure that rejected asylum-seekers return home quickly, as it has terminated a contract with the Danish Refugee Council (DRC), an international non-governmental organisation. The authorities will actively seek out and follow the asylum-seekers as soon as they receive the refusal and ensure that they get on a plane back to their home country. The immigration and integration minister, Mattias Tesfaye, said that terminating the contract with DRC was meant to ensure a "firm hand" in the task, which will be transferred from the NGO to a new agency starting in August. DRC expressed concern about the decision, saying many rejected asylum-seekers hail from countries where they are in conflict with authorities.
Noise complaints up as corona curfew drives home parties
People in Denmark are turning up the volume, with police seeing a 74 percent increase in the number of complaints received by disgruntled neighbours. Police this year got 5,552 complaints about noise, up from 3,192 reports last year, according to data obtained by DR. Police attribute the increase to the Coronavirus Crisis, saying people were probably holding more parties at home than usual, or at least playing more music at home, because bars are required to close by midnight. Young people also go to parks and make noise after the curfew, which pubs strictly follow lest they face a fine. 
Hate crime? Police say no evidence of racism in Bornholm killing
Police say there is no evidence of racism behind the killing of a Danish-Tanzanian man in Bornholm. The man, 28, was found dead on Tuesday at a shelter in the Northern Forest on the island. Two ethnically Danish brothers were arrested and charged with murder for allegedly kicking and stabbing the victim and pressing a knee to his neck. The manner of death prompted speculation that racism was a motive as observers drew parallels with the killing of George Floyd, an African-American man who died in US police custody last month. Despite the police statement, Danish politician Rosa Lund has urged the authorities to investigate further and not rule out a hate crime.