News
National Round-Up: Dane tipped to become deputy executive director of UN Population Fund
---
This article is more than 3 years old.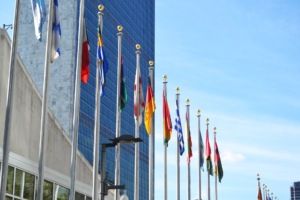 According to the Foreign Ministry, UN Secretary-General Antonio Guterres has appointed Ib Petersen to the post of assistant secretary-general, where he will serve as deputy executive director of the United Nations Population Fund (UNFPA).
The organisation focuses on sexual and reproductive health, as well as women's and girls' rights to their bodies.
Recognition of Danish efforts
Denmark supports the fund's activity with 396 million kroner annually. In this regard, the development minister, Rasmus Prehn, said that the appointment of Petersen was "an important recognition of the great Danish effort to secure women and girls' right to their own bodies and to decide for themselves whether, when, with whom and how many children they want."
Petersen has 30 years of working experience, which includes heading the Foreign Ministry's Office for Migration, Stabilisation and Vulnerability, the role of UN ambassador to Denmark in New York, and working as the director of development policy at the Foreign Minstry.
---
Less than 10 percent of maritime students are females
A new report prepared by the Higher Education and Science Ministry reveals that women who obtain degrees in maritime education constitute less than 10 percent of all the students. The report demonstrates that women generally lack knowledge about the career opportunities that maritime education can open for them. Therefore, the ministry has decided to allocate 500,000 kroner to increasing the level of women's inclusion in the respective degree programs.
More people have insured themselves against unemployment
The number of people in Denmark with a‑kasse (unemployment insurance) has significantly risen, Jubii reports. Almost 334,000 people were insured, either on a collective or individual basis, last year – 24,000 people more than in 2018.
Bornholm has become a better place for electric cars' drivers
From this week,  it is easier to drive electric or hybrid cars on the island of Bornholm, as part of its goal to become a green and sustainable island. With the help of the EU, the island's regional council has launched a new charging infrastructure network in collaboration with FDM.
AI technologies to be used against invasive species
The Vejdirektoratet road directorate will use artificial intelligence in its fight against so-called invasive species – such as giant hogweed plants, Japanese willow trees and big-leaf lupine plants – which tend to appear on the roadsides. These plants are apt to spread massively in Danish nature and, therefore, destroy the indigenous fauna and flora. Vejdirektoratet used to inspect the roads in the 'old-fashioned' manner by sending people who had to spot and remove the invasive plants. However, a new collaboration with the College of Engineering at Aarhus University will help recognise and map the plants by means of camera surveillance and a special AI program.
The alerts system has helped to fight against invasive species
Invasive species are a huge threat to Danish biodiversity, and the government is trying to overcome the problem by using an alert system, DR reports. As soon as it was realised that anyone can fill a report about invasive plants on the Danish Environmental Protection Agency's website, the alert figures have started to grow: up from just under 900 reports in 2018 to over 1,950 reports in 2019. In general, the more reports the authorities have, the better they can fight the existing problem.