Things to do
Five regions to visit this summer
---
This article is more than 3 years old.
Let 2020 be the year in which you discover your favourite part of Denmark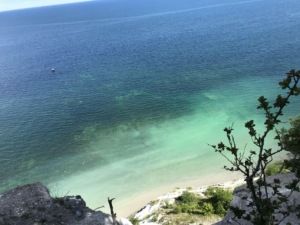 It would appear that we won't be able to travel abroad much this summer.  
But try not to be downcast, as this is the perfect time to explore the country like you have never done before.
After all, in good weather Denmark really does have it all: from sandy beaches and forests, to islands and historical attractions. 
The Germans are coming! 
Already it looks like the most popular destination among Danish holiday-goers will be the sunshine isle of Bornholm, as it has more or less been fully booked for July. 
But don't worry, as there are plenty of other islands to explore, even though we advise you to hurry now that the German tourists have been given the green light to visit from June 15 onwards.
With that in mind, we've gathered a list of the key places you should consider visiting this summer. 
---
Møn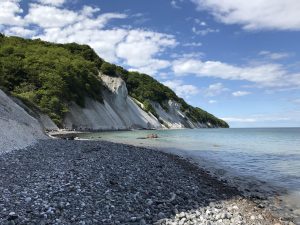 Most people go to Møn to visit its impressive white chalk cliffs at Møns Klint. But while the views are impressive, and the water just as turquoise as you see it in the pictures, there's a lot more to enjoy on the island. If you are looking to do some hiking and reconnect with nature, Møn is perfect. Similar to Camino de Santiago in Spain, you'll find Camønoen, a 175-km hiking trail taking in the three islands of Møn, Bogø and Nyord. The routes are for both experienced and unskilled hikers with magnificent natural landscapes that range from forests and large plantations, to fields populated by Hereford cows and fantastic sandy beaches. Along the trails, you'll find plenty of benches, toilets and shops to re-energise after your long walk. A good point to start your journey is at Stege, where you'll find Møn's main museum. Here you can get a map of the trails and recommendations from the staff. Stege is a beautiful town with charming restaurants and small shops where you can buy local products such as gin or honey. For a long sandy beach, visit Rytsebæk – it's ideal for sunbathing and swimming. Also visit Klintom Havn for a stroll in the harbour and to sample great seafood and ice cream. 
---
Ærø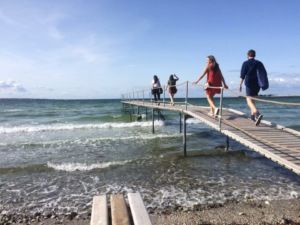 Love birds travel to get married on the 'Wedding Island' – and for good reason. But even if you are not attending a wedding, it is well worth a visit for its colourful and quaint houses and its peaceful environment. It looks like something out of a Danish fairy-tale. To get there from Copenhagen you can either drive or take a train and then the ferry to Ærøskøbing Havn – in total, it takes about 3.5 hours. Once on the island explore great beaches such as Søby and Vester Strand, which are ideal if you are travelling with children. For the traditional colourful beachside cabins you have to go to the shores of Eriks Hale, near the town of Marstal, where there is a charming marina. This beach is an isthmus. On one side of the bay, you can enjoy the calm, shallow and warm water, while on the other one you'll find the refreshing waters of the Baltic Sea. Ærø is certainly best enjoyed by bike. With 150 km of biking trails, the best option to experience the island to the fullest is to rent a bike and explore. To indulge in some local tastes we recommend you stop by Den Gamle Købmandsgaard. They sell local products and serve an unforgettable brunch. Also, try smoked specialties at Ærøskøbing Røgeri and don't forget to try Ærø's famous thick pancakes, Løvtens Paa'kar – surely the island's masterwork!
---
Zealand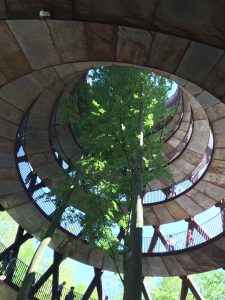 There's far more to Zealand than the capital of Copenhagen. A short drive away is Camp Adventure. Ideal for all ages, you can visit for the climbing park or the forest tower, or both! Towering above the forest canopy, fully 95 metres above sea level, good views are guaranteed – and a good workout! A 3.2km wooden boardwalk takes you through the forest, up the tower and back. The tower is designed to give visitors a new and exciting way to embrace nature and the natural forests of Denmark. The structure itself is majestic and the views vary according to where you are standing. The Climbing Park offers 10 courses encompassing different levels. You move from tree to tree via obstacles or zip lines. Expect to spend at least four hours if you do both. Our second recommendation is Stevns Klint, a UNESCO World Heritage site thanks to a clay layer in which you can find fossils of animals such as sharks and sea lizards that lived there 66 million years ago. Take the footpath 'Trampestien' from Bøgeskov Harbour to Rødvig. This 20 km path stops at all the points you need to see: the beach, the cliffs, the cold war museum and the picturesque lighthouse. The best place to catch a glimpse of the fossils is at the beach in Højerup. Last stop, we recommend Karlstrup Kalkgrav in Køge for a day of picnicking and swimming. Karlstrup Kalkgrav is a limestone quarry formed millions of years ago. It covers around 30 hectares and its lake is about 6 hectares in area. Parts of the lake are 14 metres deep. Enjoy a swim or stroll to appreciate the flora and fauna surroundings. 
---
Samsø 
Samsø once belonged to the king of Denmark, but he gave it as a present to his mistress in 1678. But with its apples, potatoes and peaceful surroundings, it turned out to be a gift for the entire nation. It is also the home of a lot of legends – did you know, for example, that trolls can be found in the hills of Dansebjerg or St Vorbjerg. Samsø is mostly flat and best enjoyed by bike, offering wide bike paths that take you from Tranebjerg in the middle of the island to Nordby in the north. Look out for the roadside tables filled with strawberries, potatoes and asparagus that you can pick up and pay for with MobilePay. With a 120 km coastline, you'll find a sandy beach wherever you look. In the north, check out Mårup Østerstrand and in the west lookout for Sælvigbugten. We recommend you visit Samsø Bær, where they make fantastic jams and schnapps using local products. On Wednesdays, there's a tour of the premises with tastings. For the best smørrebrød with local potatoes head to Carlo's Corner. To get to Samsø from Copenhagen take a train to Kalundborg. From there take the ferry to Ballen.
---
Lolland
The fourth-largest island in Denmark mixes history with nature and long beaches. Less than a two-hour drive from Copenhagen, these are the three areas in Lolland you must visit. Start at Maribo's Cathedral and admire its lakes by taking a boat tour: here you'll encounter extraordinary birdlife, meadows and beautiful old manor houses. If you are travelling with children, a good option is to visit Knuthenborg Safari Park where you'll see Siberian tigers and the largest elephant enclosure in Europe. Next, visit Nakskov and its fjord. The town is historically charming and they have the best cherry wine, as well as the oldest pedestrian streets in Denmark. Take a tour in the old 'Post Boast' through the fjord and visit Albuen for fine sand beaches and an eye-catching lighthouse. Last but not least is the Dodecalith, Denmark's answer to Stonehenge, where the visit is enhanced by an art project by sculptor Thomas Kadziola. Take the Glentehøjstien trail starting at Kragenæs Harbour and in 15 minutes you'll arrive to see the 12 menhirs carved in granite facing inwards in a circle. Each weighs 25-45 tonnes and is 7-9 metres high. Inside the 40-metre circle, there are stones where you can sit and listen to music by composer Wayne Siegel. It is an outstanding piece of art where nature, history and music blend together.