Bars
Dexter's Bar by the Lakes is Google's best rated bar in Copenhagen
---
This article is more than 3 years old.
Meeting the man behind the name of the bar that brings Afro-Caribbean flair to Copenhagen's drink scene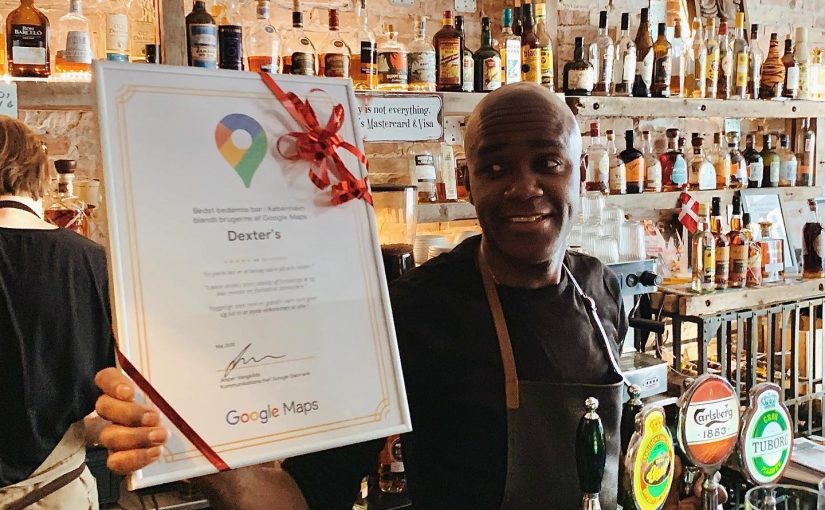 While in Munich you will probably grab yourself a beer at some point – or a whiskey in Dublin, or a Spritz in Venice, or a gin concoction of sorts in London. Whilst going out for a drink in Copenhagen, though, rum might be the last specialty booze that springs to mind.
However, Dexter's Bar – found at Åboulevard 9AB, just off the Lakes where Nørrebro borders Frederiksberg – just so happens to specialise in the stuff with over 120 types of rum in stock. With its laid-back ambiance, relaxing music and authentic Caribbean-inspired cocktails, Dexter's Bar offers a tropical vacation mindset away from the dreary Copenhagen weather.
Don't walk, rum!

The bar was recently named the best rated bar in Copenhagen by Google. Glancing through its reviews on Google Maps, there is a common theme to them singing their praises about the bar's owner and namesake, Dexter, for his warmth and customer service.
This was immediately recognisable upon meeting Dexter, who has been bartending for 30 years between living in Jamaica and Denmark, which he moved to 22 years ago.
New tastes to Copenhagen

After pouring me a glass of Tanzanian lager, Dexter spoke about the wide variety of drinks the bar supplies.
"We specialise in African and Caribbean products, but we also use Danish products, and we have rums from all around the world," he explained.
"I get to find a lot of importers, and the best way for them to promote their product is through me, because I like the idea of carrying African and Caribbean drinks to bring something new to Denmark."
Dexter says that a lot of Copenhageners have taken to his bar since it opened four and a half years ago, and that his patrons are quite knowledgeable about rum.
"There are a lot of people who love rum here. Even if someone calls me and says: 'Okay, I know you're a rum bar, but we're coming this day and we like gin', I'll provide it for them – we never say no to the guest," revealed Dexter.
The cocktails on the menu each call for a medley of traditional Caribbean flavours and ingredients such as guava juice, papaya juice, grenadine, and more.
So what is Dexter's favourite drink on the menu? Without hesitation his answer is: "My favourite, and the most popular drink on our menu, is called the 'Old Jamaican'. And that's me – I'm the old Jamaican here."
"In it you have Jamaican white rum – which is 126 proof – and you have lime, mint, bitters, a bit of sugar, then top it off with either sparkling wine or champagne to really kick it off."
Dark and stormy
Dexter's Bar does not have a kitchen, though they will work with guests and chefs to cater events ranging from birthdays and wedding parties to Sunday dinners featuring authentic African and Caribbean dishes.
Before the Coronavirus Crisis struck, they held both a Ghanaian and French Caribbean Sunday dinner, and Dexter says he always wants to keep a good rotation in the variety of food and drink at the bar. "We've talked about having a Congolese dinner or a Nigerian dinner next," says Dexter.
Though the coronavirus lockdown put a hold on hosting these sorts of events, the bar has fared relatively well through it and has rebounded ever since ropening on May 21.
There is a saying in Jamaica that goes: "There are no problems in Jamaica, mon, just situations," and Dexter brings that no-problem, forward-looking vibe to his bar and to the lockdown.
"We managed because we had support from the government, and since we re-opened we've been quite busy," he explained.
Even if you are still hesitant about sipping drinks at indoor establishments, Dexter's marked the occasion of its grand reopening by introducing its to-go cocktails to be enjoyed in the summer weather. Indoors or outdoors, Dexter's Bar is a refreshing escape from the monotony of the local bar and drink scene.