News
National Round-Up: Nursing staff to be tested regularly for COVID-19
---
This article is more than 3 years old.
The new testing system aims to protect the most vulnerable citizens. Meanwhile, Danish companies receive 6.8 billion kroner in interest-free loans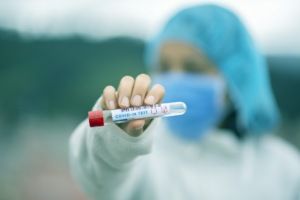 In order to protect the most vulnerable Danes from COVID-19 and to control the spread of the infection, nursing homes and home care employees will be tested regularly.
The testing will take place in all municipalities of the country and its frequency will be adjusted in accordance with how widespread the infection is in each of them.
Special testing will also be done if there are new outbreaks.
Joint efforts essential
The new testing system will be part of the open test offer that nursing staff already have access to. The new setup however will make it easier to be tested right in the workplace.
Stephanie Lose, head of Danske Regioner, emphasised the importance of regions' cooperation to get the best results.
"It is important that we do everything we can to prevent the infection from spreading to our senior citizens and the care staff who are at the front lines and who care for them. Here, our joint efforts will make a difference," she said.
---
New regulation on expensive consumer loans in place
Starting Wednesday, expensive consumer loans are prohibited from being offered as they have caused major debt problems for many Danes in past years. The new rules on quick loans state that they must now have a maximum annual percentage rate of interest of 35 percent and declare that no more than 100 percent above the value of the loan can be paid for with it.
Law must protect consumers from dangerous products
In accordance with a new law that comes into force on Wednesday, the Danish Safety Technology Authority will have more control over product safety and companies' compliance with the rules. The law will allow safety authorities to inspect the companies and control their products anonymously. It will also make it possible to penalise severe violations with imprisonment.
More than 500,000 Danes have cardiovascular diseases
Around 515,147 Danes have cardiovascular diseases, Heart Foundation estimates. It means that 1 in 10 people are affected by it. The specific heart diseases that frequently appear in the country are ischemic heart disease and atrial fibrillation that affect 166,462 and 138,365 people, respectively. The data are drawn from the database Heartbeat that has been relaunched with a more user-friendly interface, which makes the figures more accessible for researchers and citizens.
65 percent of people who smoke want to kick the habit
The National Board of Health reports that 65 percent of those who smoke daily occasionally want to stop while 35 percent of all smokers have tried to quit smoking in the last 12 months. Smoking cessation has been mainly attempted by people aged 15 to 29 with more than half of them trying to quit. Yet 60 percent of those who have attempted smoking cessation claimed that they did not use any help to do so even though municipalities have special smoking cessation offers that aim to provide citizens with information on how to handle physical and social addiction.
Companies get 6.8 billion kroner in interest-free loans
Due to the COVID-19 crisis, Danish companies were given an opportunity to take interest-free VAT and payroll tax loans. About 23,600 companies have applied for such loans and were granted these amounting to 6.8 billion kroner. The goal of the interest-free loans is to help the companies and to secure jobs. Business owners have until April 1, 2021 to pay back the loans.