News
'Worst nightmare': Pearl Jam and festival remember Roskilde tragedy
---
This article is more than 3 years old.
Pearl Jam reflects on being fathers while Roskilde Festival emphasises the fragility of life as the two pay tribute to victims of the Roskilde tragedy 20 years ago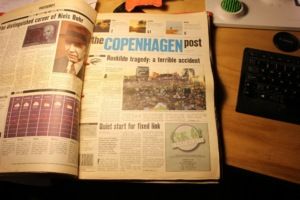 "It is unthinkable, yet there it is. Our worst nightmare."
American rock band Pearl Jam and the Roskilde Festival this week paid tribute to 9 young men who lost their lives in a tragedy at the band's performance in the festival in Denmark 20 years ago.
Considered one of the worst accidents in rock history, the Roskilde tragedy took the lives of 9 concertgoers who slipped on muddy grounds and were trampled upon in a chaotic push to get closer to the front.
"Our deepest condolences and apologies to the families who lost their boys that day," the band said in a statement penned by guitarist Stone Gossard on Monday.
During the festival on June 30, 2000, eight men aged 17 to 26 suffocated to death while the ninth died in the hospital.
Fathers now
Pearl Jam was supposed to perform in Copenhagen on June 29 as part of a European tour but this was postponed due to the coronavirus pandemic. The venue was only 30 kilometres away from the site of the accident in Roskilde.
"Our understanding of [the] gravity and the loss felt by the parents of those boys has grown exponentially, magnified as we imagine our own children dying in circumstances like Roskilde 2000," Gossard wrote.
Although Danish police has said that the band was "morally responsible" for the incident, the group members had insisted that if they had been informed about the potential problem, they would have stopped performing earlier.
For Gossard, the Roskilde events are especially important. He went to Copenhagen in 2003 to meet with survivors. He became friends with the Gustafsson family that lost their son in the festival.
Fragility of life
As for Roskilde Festival, it posted on Tuesday photos on its Instagram page of the memorial to the victims. The post highlighted an inscription on a stone that read, "How Fragile We Are".
"It has been 20 years since an almost unimaginable tragedy stuck at a place where togetherness and joy of life were celebrated," the Festival said, urging followers to remember the dead even if this year's performances were cancelled due to the Coronavirus Crisis.
Since the accident, both Roskilde Festival and Pearl Jam have taken into account safety measures at their events. The tragedy also proved to be a lesson for other major festivals in the world.