News
Sports round-up: More fans were permitted to attend Cup Final
---
This article is more than 3 years old.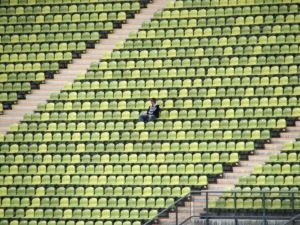 More fans were permitted to watch the Danish Cup Final on July 1 between Aalborg Boldspilklub (AaB) and SønderjyskE, following the successful trial of three Superliga games last month that were attended by 500 fans each.
The government approved the move, which involved limits on each section of the ground along with a guarantee that all supporters kept a one-metre distance from one another and stayed seated throughout the game.
At the Bluewater Arena in Esbjerg – the first time that Parken hasn't hosted the final since its redevelopment in 1992 – SønderjyskE won the final 2-0.
---
Young Danish talent sold to Ajax
Silkeborg has officially shipped off Eskild Dall to Ajax. The 17-year-old talent, who had previously trained with the Dutch club, has signed a three-year deal. Silkeborg sports director Jesper Stüker hailed the deal as well as Ajax for having a great history of developing Danish talent.
Andreas Cornelius lays second hattrick on Genoa
Danish national forward Andreas Cornelius grabbed a classic hat-trick and an assist in Parma's 4-1 victory over Genoa on June 23. He scored with his right leg for the first goal, left leg for the second, and headed in the third. He had already netted three goals last time the two teams met back in October – which at the time was the first Serie A hat-trick by a Dane in 55 years. Cornelius joins an exclusive club of only two other players to have scored a hat-tricks in both matches against the same Serie A club in one season.
Homophobic chants under investigation by DBU
A homophobic incident involving spectators at the FC Midtjylland vs AGF match on June 23 is being investigated by the Dansk Boldspil-Union (DBU) disciplinary committee. The small, though apparently noisy crowd of only a few hundred – its size diminished due to coronavirus restrictions – could be heard chanting "Gays go green" following the first goal of the game. It is thought that fans disputed the referee's decision and decided to exact their revenge by referring to his green shirt. Superliga clubs OB and Brøndby have both been fined 25,000 kroner for similar offences, and the DBU is working to identify the offending spectators. AGF eventually won the game 4-3.
Olympic runner breaks Danish record and magic number
Danish marathon runner Thijs Nijhuis set a new Danish record for the 5,000 metres at a race in Flakkebjerg near Slagelse on June 21, becoming the first ever Dane to break the 14-minute barrier with a time of 13:57. The Dutch-born Dane, who became the second fastest Dane at the marathon in February, is now busy preparing for the delayed 2020 Olympics.
Yet another controversy roils elite Danish sport
The former sports director of the Danish Orienteering Federation (DOF) is suing the body after being fired in December 2019 for, among other reasons, "manipulative behaviour, unacceptable statements about eating disorders and exclusionary style", reports Jyllands-Posten. Lars Lindstrøm dismisses the allegations and claims he was the subject of a witch-hunt.
Jan Ø Jorgensen hanging up his racquet
Badminton star Jan Ø Jørgensen is calling time on his career. His status as a world-class badminton player was cut short by severe injuries to his hip and heel  in 2017. Jørgensen plans to go out in style in front of a home crowd at the Denmark Open. He is the only European men's singles player to win both the China Open (2016) and Indonesia Open (2014), and he has also won the Denmark Open, Thomas Cup, French Open and European Championships, as well as a bronze medal at the 2015 World Cup.