News
Trump cites Denmark in threatening US schools to reopen
---
This article is more than 3 years old.
Trump names Denmark, Germany, Norway and Sweden as countries that were able to reopen schools as he pushed US states to do the same in the fall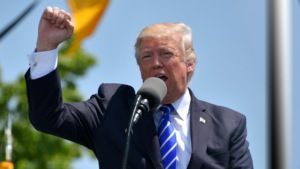 US President Donald Trump cited the experience of Denmark and other European countries as he threatened to cut off funding for US schools that do not open in the fall.
In a tweet on Wednesday, Trump named Denmark as among countries that were able to reopen schools following the Coronavirus Crisis. He accused Democrats of wanting to keep schools shut for political reasons despite a resurgence of COVID-19 in many southern hotspots.
"In Germany, Denmark, Norway,  Sweden and many other countries, SCHOOLS ARE OPEN WITH NO PROBLEMS. The Dems think it would be bad for them politically if U.S. schools open before the November Election, but is important for the children & families. May cut off funding if not open!" Trump tweeted.
Lower cases and precautions
Trump's call for students to return to schools comes as coronavirus infections in the US rose by 55,000 to reach more than 3 million cases on Wednesday, according to the AFP news agency. The US remains the world's worst hit country in the pandemic with over 132,000 deaths.
While Trump cited Denmark's reopening of schools which began in April, the Scandinavian nation was able to do so while following stringent safety precautions as well as seeing lower cases of COVID19 following a strict and early lockdown.
Denmark was the first European country to reopen schools during the pandemic.
As of Wednesday, Denmark recorded 609 deaths and 12,900 cases of the coronavirus, according to Statens Serum Institut.
Criticising guidelines
Trump also criticised the US Centers for Disease Control and Prevention (CDC) guidelines for reopening schools as "very tough and expensive" and "very impractical".
The CDC recommends measures including testing, dividing students into small groups and staying six feet apart. The agency clarified that its guidelines were mere recommendations and were not meant to keep schools closed.
Despite Trump's threats, funding for US schools flows through Congress. Responsibility for schools also lies with individual states instead of the federal government.