News
Culture Round-Up: Tickets on sale for The 1975 concert in Denmark next year
---
This article is more than 3 years old.
The 1975 will return to Denmark in 2021. In the meantime, the largest to date David Shrigley's exhibition is ready to welcome visitors in Copenhagen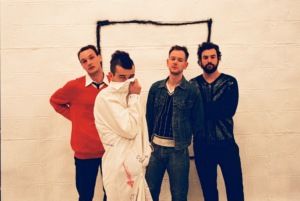 In May, The 1975 released their fourth full-length album, Notes on a Conditional Form, with which the band will be touring next year. The Manchester quartet will perform in TAP1 in Copenhagen on February 12, 2021 and tickets are already on sale.
The critically acclaimed album consists of as many as 22 songs that not only go deeper into defining the band's unique sound but also do not hesitate to experiment.
For instance, the self-titled opening track is a piano-accompanied recording of Greta Thunberg's monologue. It is not surprising that the Danish music magazine Gaffa stated that Notes on a Conditional Form is "the epitome of music in 2020".
Award-winning band
The 1975 have won the Brit Awards for the Best British Group twice – in 2019 and 2017.
In 2019, they also took home an award for the Best Album of the Year for their third recording, A Brief Inquiry into Online Relationships.
The British music magazine NME named them the "Band Of The Decade" at the NME Awards 2020.
---
The Happiness Museum opens in Copenhagen
The Happiness Museum opens in Copenhagen on Tuesday, Jyllands-Posten reports. The museum aims to embody the concept of happiness, which Denmark is often associated with. Meik Wiking, the museum's curator and head of the Department of Happiness Research, believes that "the notion of happiness is largely the same" all around the world. He hopes that the museum will help visitors deepen their understanding of how the good life should look like.
David Shrigley creates art piece for Copenhagen Contemporary
Copenhagen Contemporary has launched the largest to date exhibition by British artist David Shrigley, who is well-known for his humorous and sometimes even absurd drawings. The exhibition is entitled DO NOT TOUCH THE WORMS and was created specifically for Copenhagen Contemporary. Shrigley's work will stay in the museum until the end of the year.
New Assassin's Creed game to include Vikings
The Vikings will be featured in the new part of the Assassin's Creed game series called Assassin's Creed Valhalla, reports DR. The game will be released at the end of 2020 and will follow the series' tradition of exploring different historical eras – from ancient Greece to the French Revolution. The game's creators said that they have received many letters from people saying that they were able to learn history while playing and they hope to achieve the same with Assassin's Creed Valhalla.