News
Sweet life to destruction: Pompeii comes alive in Aarhus
---
This article is more than 3 years old.
An exhibition about Pompeii and Herculaneum in Moesgaard Museum allows guests to walk the streets of the ancient Roman cities viewing artefacts never before seen outside of Italy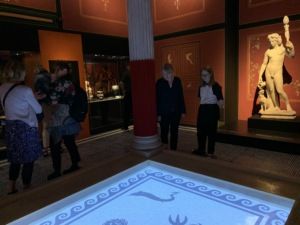 Displaying freshly-baked bread, graffiti offering male prostitutes, a urinating Hercules and the casts of many of its victims' bodies, the world-renowned ancient city of Pompeii has been reborn out of its ashes at an ongoing exhibition in Denmark that transports its guests back to the glorious days of the Roman Empire.
As befitting one of history's most famous archaeological discoveries, the exhibition at Moesgaard Museum – which depicts life in Pompeii and Herculaneum before the eruption of Mount Vesuvius in 79 AD buried its inhabitants and turned them into time capsules – deserves to be seen by as wide an audience as possible, and it has accordingly been extended until September.
Even without a ticket to Italy, visitors can walk the streets of the ancient cities and view artefacts never before seen outside of the country. 'Bound for Disaster: Pompeii and Herculaneum' was set to close in May, but the Coronavirus Crisis led to the extension, beckoning summer excursionists and a cultural revival following the pandemic.
"This summer, you cannot travel but you can dream. You can feel like you're in Napoli. We have a small-scale Pompeii and southern Italy here," Pauline Asingh, the head of exhibitions at Moesgaard Museum, told CPH POST.
"We have some very spectacular and very high-class objects from these places. So it's like being there."
Frozen in time
While many documentaries and books feature Pompeii, the exhibition aims to give guests the atmosphere of being in ancient Rome, Asingh said. It does so with more than 250 objects on loan from Italian museums and Moesgaard's own scenography and design.
Through frescoes, fountains and villas, Bound for Disaster seeks to offer insights not just regarding one of history's greatest natural disasters but also about the high life – la dolce vita – in the thriving port cities in the Gulf of Naples before the eruption.
Seemingly frozen in time, items were well preserved because they were covered by ash as deep as 20 metres in Herculaneum.
Mediterranean conqueror
The journey begins with a room showing the Roman Empire as the Mediterranean's conqueror. A centrepiece is a bronze ram used in warships to slice into enemy vessels in the battle against the Phoenician superpower of Carthage for regional dominance.
Next comes a section with exquisite pottery vessels, including one with corals, used for transporting wine, fish sauce and oil. It tells the story of trade in the slave-based society that furnished the empire with goods and luxury.
Visitors can walk around tavernas or eateries and see the actual bread people were baking on the day Vesuvius erupted.
"Everybody woke up that morning and didn't know what was happening. The bread is in the oven and suddenly the top of Vesuvius is blowing away and there was dust everywhere," Asingh said.
Hercules and Hydra
A highlight and undoubted crowd-pleaser is a recreated villa with scarlet walls complete with Roman columns where water falls down to a shallow pool. The fine rooms, furnishings and women's jewellery showcase the affluence of the Roman elite.
A marble sculpture of the wine god Bacchus cuts an imposing figure. Another of an ageing, urinating Hercules is in a garden along with a fountain depicting the Lernaean Hydra, a snake the demigod defeated in battle.
Guests relished seeing the ancient world up-close.
"It is nice to see a lot of daily life in the typical Roman era. Some of the articles that we saw, like the bronze and the glass, were impressive from a technical point of view that they could make it in those days. It was a long time ago," said John Gunn, a Danish pensioner.
'Emotionally moving'
Yet the most striking pieces are casts of people frozen in terror and death throes from Pompeii and skeletons from Herculaneum – many children were among the thousands of fatalities.
These are original casts of the dead from one of the most visited ancient sites on earth.
"I was emotionally moved by seeing the casts of the people. It's different when you see it at the movies and when you see it in person," said sociologist Majbritt Andersen.
Sold out despite corona
Bound for Disaster is one of the most popular exhibits at Moesgaard Museum, which is known as a cultural gem in Aarhus. With tickets at times sold out, visitor numbers for the exhibition –  more than 178,000 so far – are the museum's best since a 2015 exhibition of Chinese terracotta figures.
Moesgaard, which focuses on prehistory and culture, is perhaps known best for its sloping grass-covered roof and for housing the Grauballe Man, the world's best preserved bog body from the Iron Age.
While the museum closed for two months due to the Coronavirus Crisis, crowds are back since it reopened at the end of May. As part of the government's summer package, tickets are half price until August 9.
Guests however need to book tickets online ahead of time as the museum limits visitors to 140 per time slot to adhere to distancing guidelines.
Nearly normal
"We take our precautions and keep distance. I can see not all do, but we try," said guest Helle Hansen, a church minister.
Ironically, the Pompeii exhibition comes as the world deals with another kind of disaster – this time due to a pandemic. But museum officials say that in the case of the coronavirus and cultural life in Denmark, the dust is slowing starting to settle.
"As we can see with our Danish guests, our behaviour is returning back to normal now. The situation has nearly normalised here," Asingh said.